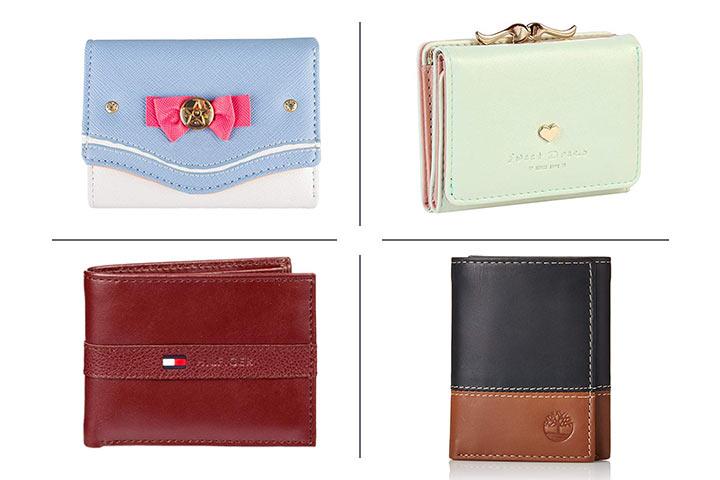 Teens feel grown up and want to behave like one but are not technically adults. Nevertheless, most teens want to explore the world independently. This independence partly comes from financial freedom or the little purchases which they start making. Thus, wallets for teens slowly become an integral part of their accessories.
In this post, MomJunction shares a list of wallets for teenagers; they are not only stylish but also serve multiple purposes.
Top Wallets For Girls
Whether you want to carry your whole world or just a card or two, a wallet or a tiny purse could come in handy. Here are some options to suit every kind of need.
1. Travelambo wallet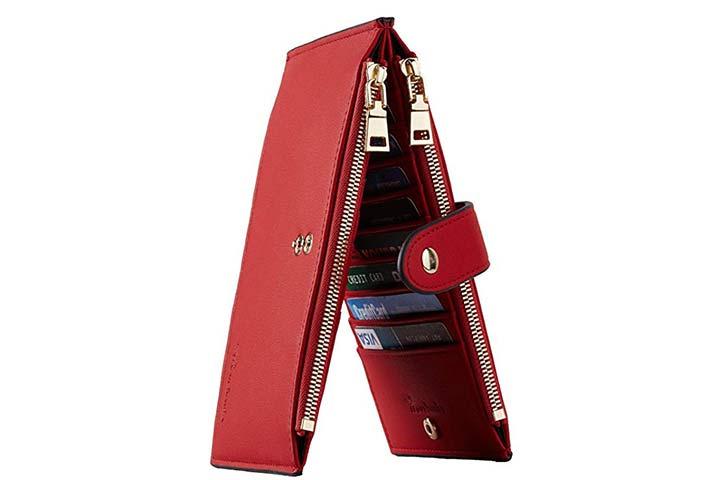 This wallet is ideal for someone who carries a lot of banking and shopping cards but minimal cash.
Pros: 
Beautifully handcrafted, this wallet is a 16-card holder with a separate transparent ID holder and zipper slots for cash.
Travelambo wallet is made with the RFID (radio-frequency identification) blocking feature, making it secure from scanning and theft.
Made of genuine leather, this pretty wallet is classy and durable.
It comes with hassle-free returns and exchange guarantee.
This wallet is available in 42 different colors.
Cons: 
As the wallet is made of leather, it is not cruelty-free.
A mobile phone may not fit into this wallet.

2. Leopardd wallet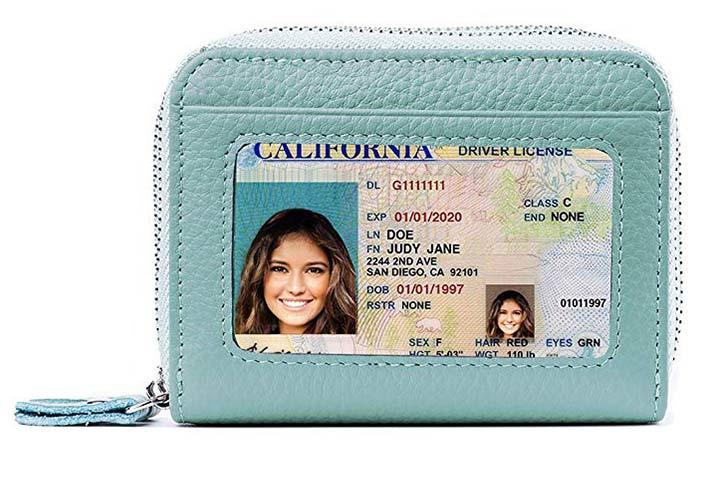 Tiny and cute, this Leopardd wallet is for girls who want to carry their world in a small purse.
Pros: 
Though small, this is a very functional wallet with separate compartments for cards, notes, and coins.
It is a minimalist yet fully functional wallet with two high-quality stainless steel zippered compartments, one ID window, one pocket for coins, two separate pockets for money and ten slots for cards.
This small wallet is made of milled cowhide leather that is soft, smooth, and durable.
It is equipped with RFID technology to protect your cards from theft.
The wallet is small, measuring only 4.1″ x 3.1″x 1.4″, to fit into handbags or even jackets and coats.
You have 13 different color options to choose from while buying this wallet.
Cons: 
It is not suitable for someone who does not like folding their currency notes.
As the wallet is made of leather, it is not vegan-friendly.

3. Itslife clutch and organizer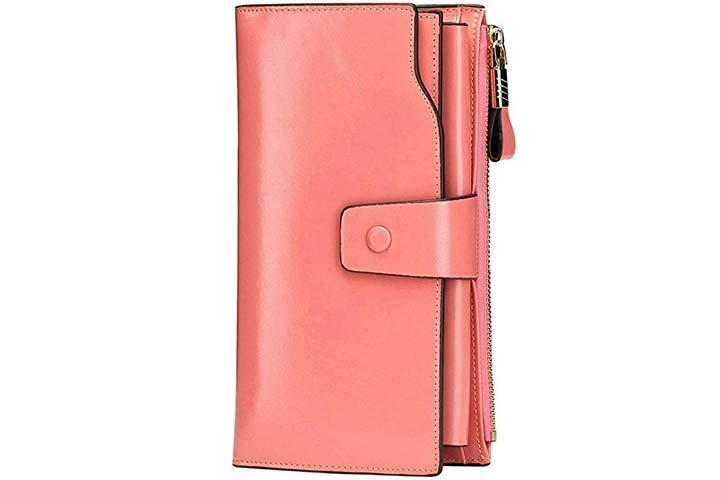 A beautiful wallet to give you a feeling of luxury.
Pros: 
Available in more than 30 color variants, this pretty wallet is made of prime leather. It is soft and comfortable to use.
The wallet is protected with RFID technology against the theft and scanning of the cards.
It is a multi-functional wallet with 21 card slots, including one ID window. The wallet also has three full-length currency note compartments, one coin pocket and a separate section for your mobile phone.
The multi-story fold is designed to keep everything organized.
The finishing design makes it more durable and scratch-resistant.
Cons: 
The buttons and zip closure may break open if the wallet is overloaded.
For someone who prefers a compact wallet, this may seem bulky.
The wallet is not cruelty-free.

4. Kalmore leather wallet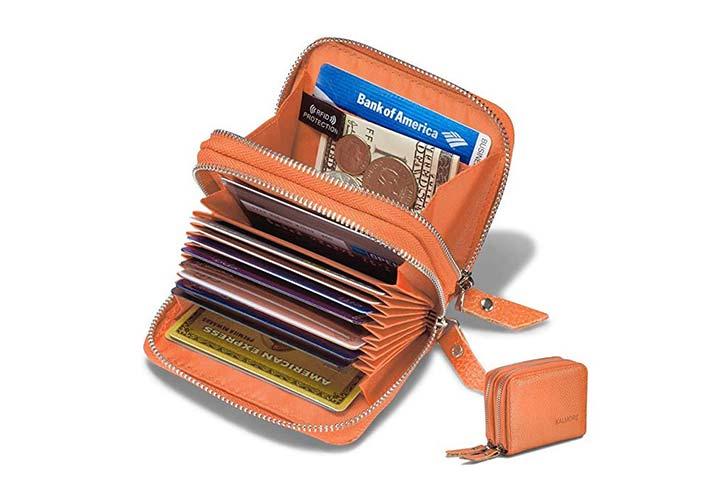 Another wallet that is small in size but effective and utilitarian.
Pros: 
This wallet comes in 11 different color options.
It is handcrafted with premium quality leather and has an elegant design.
High-quality gunmetal zipper closures make it safe and secure to use.
The wallet is ideal for frequent travelers as it consists of two zippered compartments, fourteen slots for cards, one cash slot.
It is equipped with advanced RFID technology to secure your valuable data.
If you are not satisfied with the wallet, Kalmore also offers a 100% money-back guarantee, refund or replacement.
Cons: 
The small size of the wallet will require you to fold the currency notes before storing them in.
As the wallet is made of leather, it is not cruelty-free.

5. Ainimoer small compact wallet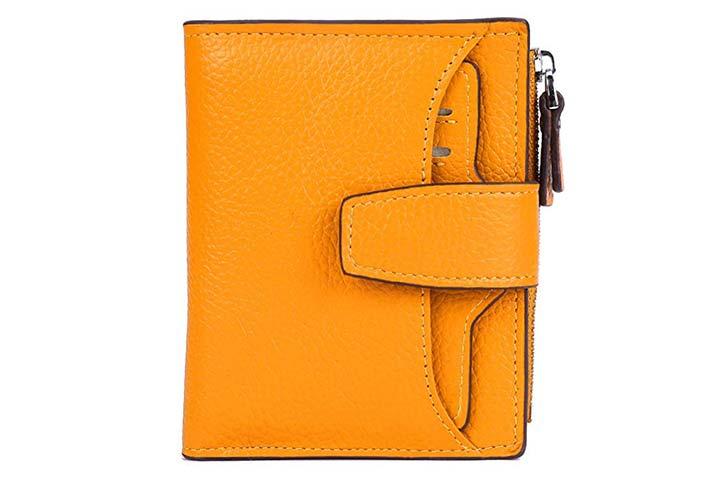 This bi-fold zipper wallet in more than 40 shades will leave you spoilt with choices.
Pros: 
The wallet offers enhanced personal security with top RFID technology.
It is made of genuine cowhide leather.
This compact wallet can be carried either in the pockets of your outfit or even your purse.
This functional wallet comes with nine credit card slots, one slot for photos, a pocket for coins, one full-length compartment to store money and one removable card sleeve with three more card slots.
The company offers a hassle-free money-back guarantee.
Cons: 
Cowhide leather used to design this wallet makes it a non-vegan product.

6. Indressme small wallet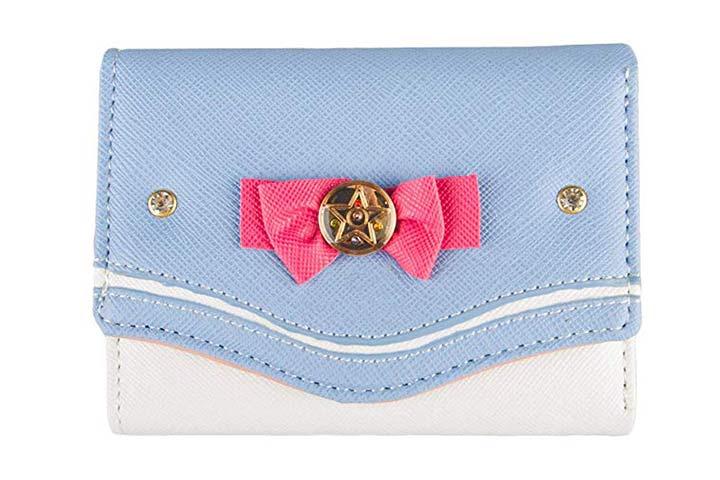 Cute, colorful, and fun. This wallet is ideal for carrying a couple of cards and some cash.
Pros: 
The tiny pink bow with gold-button detailing make it very attractive.
It is made of faux leather.
The wallet has five cardholders, one compartment for cash and one transparent ID window.
Cons: 
It does not have a pocket for coins.

7. Damara wallet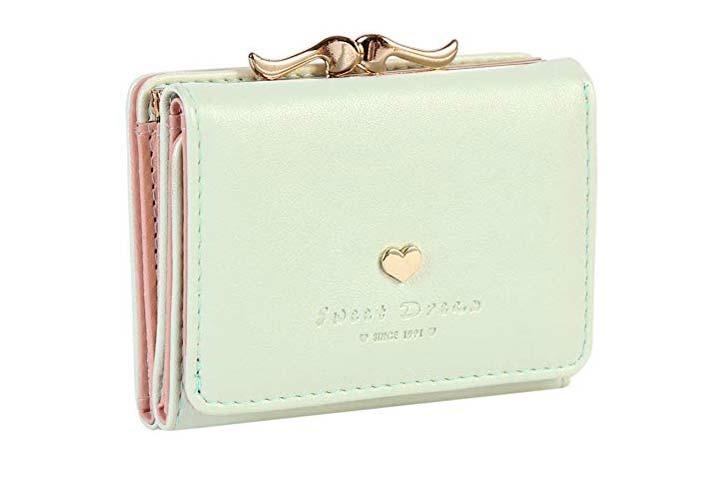 This one is cute and tiny, yet sleek and stylish.
Pros: 
It is made of faux leather and comes in seven pretty colors.
The kiss-lock closure makes it easy to use.
The wallet has seven card slots, one photo or ID window, one compartment for storing cash.
The middle portion features a separate coin pocket.
The other side of the wallet has four card slots and one photo window with an easy snap closure on the back.
Cons: 
The currency notes may be crumbled due to the threefold pattern of the wallet.

8. Bohemian mini purse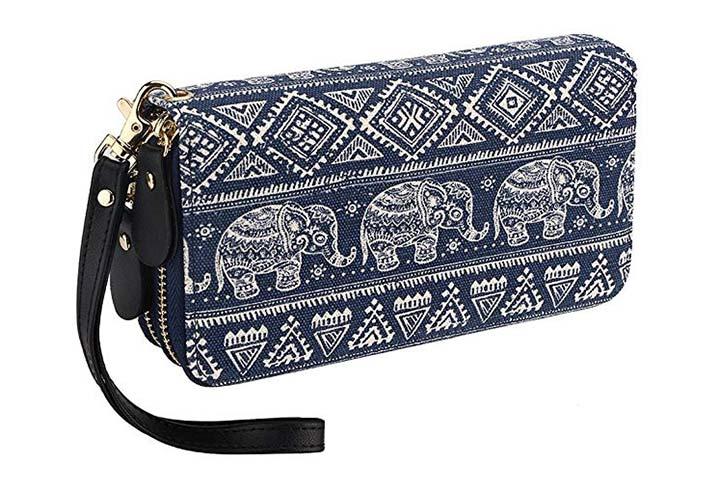 Store your cash, currency, mobile phone, and your world in this bohemian style wallet.
Pros: 
This pretty wallet comes in ten unique elephant designs.
It comes with a removable strap, which acts like a wristlet to easily carry it around.
The wallet has an organizer with zip closure, for coins and small things.
It also has a separate compartment to store a mobile phone not bigger than six inches in size.
The functional pockets feature eight card slots, three zipper pockets, two slots for currency notes.
Cons: 
It may seem bulky for some users.

9. UTO wallet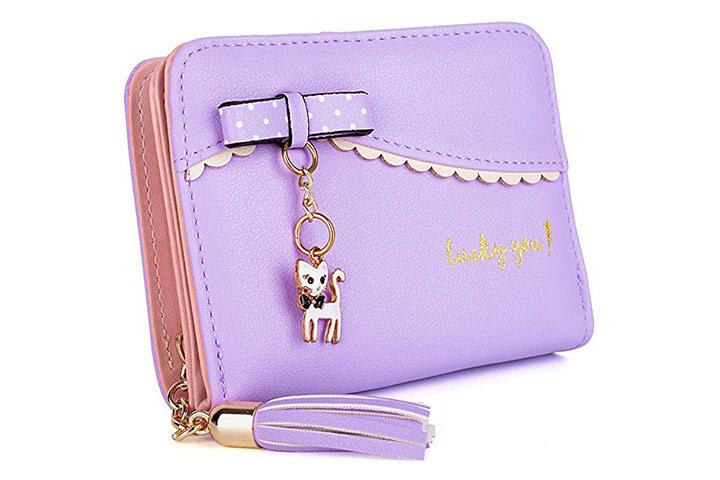 When you buy this wallet, a cute kitty comes as your all-time companion. Not literally!
Pros: 
Available in seven cute color variants, this wallet is compact and handy.
It is designed with soft synthetic leather and has a tassel zipper, making it safe and easy to use.
The small cute cat hanging below the bowknot adds a unique charm to the wallet.
It has six card slots and one clear plastic photo slot.
Another compartment in the wallet has a currency section and one zipper pocket for coins.
The wallet can comfortably hold credit cards, ID cards, cash, and coins.
Cons: 
The inner fabric lining of the wallet requires constant care to avoid wear and tear in the long-run.
Best Wallets For Boys
Most boys usually prefer minimalist wallet designs that are sleek and trendy. Whether you like to own a compact wallet or one that can hold up a lot of stuff, here are some of the best options for you.

10. Serman wallets with money clip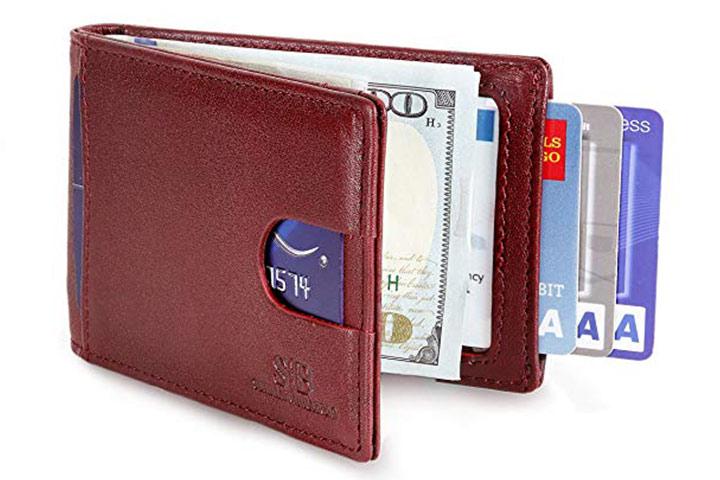 This is an elegant wallet for the classy boys.
Pros: 
Serman wallets are equipped with advanced RFID technology to protect your valuable data.
It is sleek in design and made of top grain genuine leather.

The wallet can hold up to eight cards, currency, and has a unique pull-tab design to access the cards easily.

The central clip can easily hold sufficient currency notes.
Its compact design enables the wallet to fit in any pocket.
The company also offers a one-year warranty for both return and replacements.
Cons: 
The leather material makes the wallet non-vegan.

11. Tommy Hilfiger wallet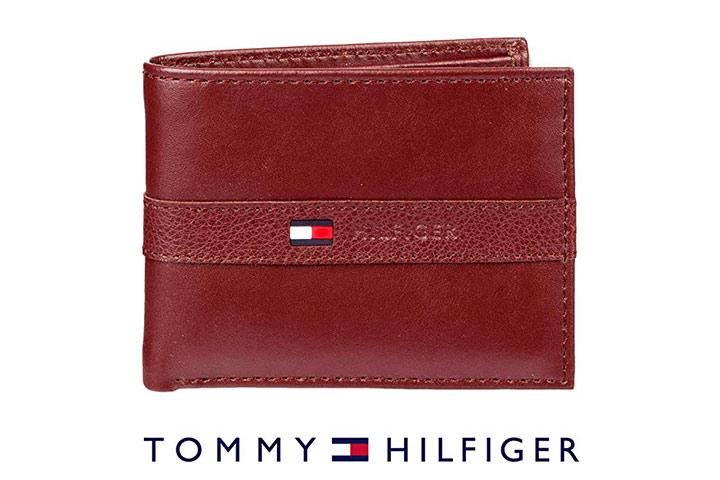 All the Tommy fans out there, say Heyyyy!!
Pros: 
The wallet is made of genuine leather and comes in 18 unique shades.
It's a fully-functional wallet with six card slots, one large compartment for notes, and one removable ID card window.
It has a cotton twill inner lining.
This wallet has been crafted with attention to detail, and the embossed logo makes it very stylish.
Cons: 
Cowhide leather used to craft this wallet makes it non-vegan.

12. HIMI Genuine leather wallet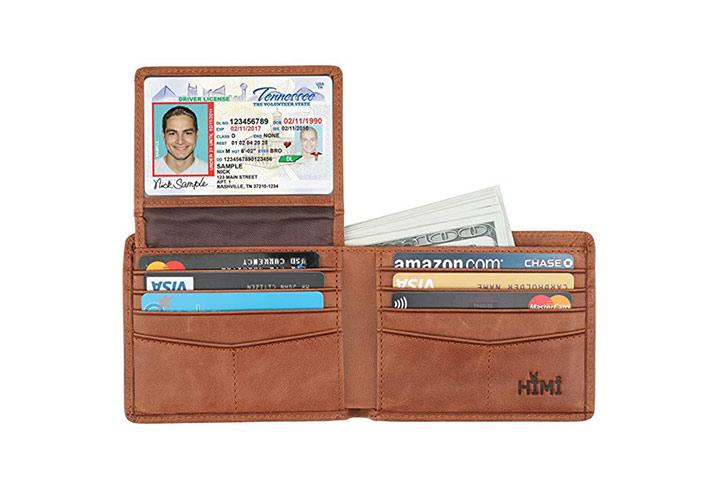 This Bifold wallet has elite features to give a regal feeling to the users.
Pros: 
This wallet comes in 20 plus color variants and is made of genuine Italian leather.
The bifold and ultra-slim design makes it compact and handy.
It is equipped with advanced RFID technology.
The wallet has two ID windows, ten slots for cards and two large pockets for currency.
Cons: 
This wallet is not cruelty-free, hence not suitable for environmentalists or vegans.

13. Timberland leather trifold wallet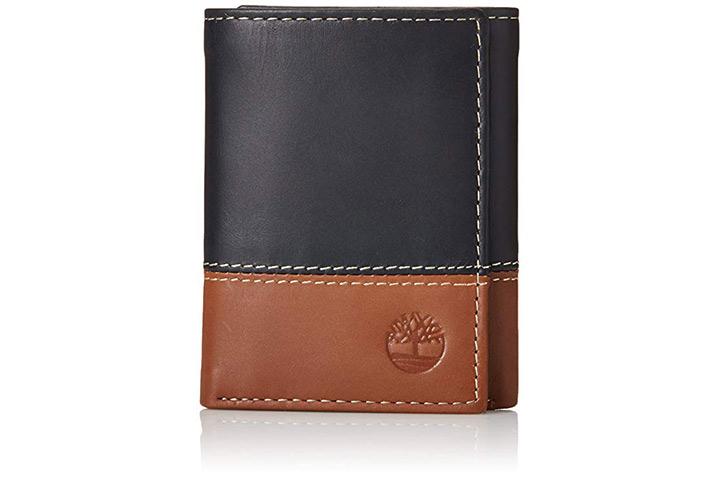 A conventional leather wallet. It is an ideal choice for boys who like to keep their wallets loaded.
Pros: 
This handcrafted wallet comes in 11 different colors and patterns.
It is made of Italian leather and has a soft texture.
Apart from the two large cash compartments, this wallet also has six card slots, two slip pockets, and an ID card window.
The tri-fold design makes it compact and easy to use.
Cons: 
It is not cruelty-free.
Some users may find the wallet bulky and difficult to fit in the pockets.

14. Travelambo money clip wallet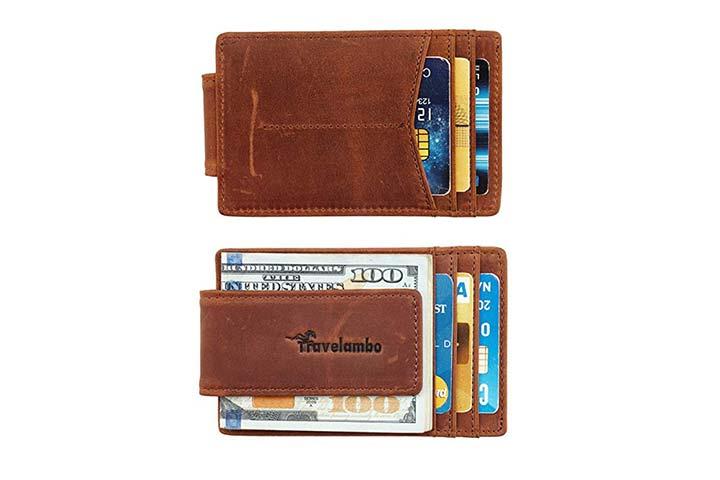 A minimalist wallet for someone who believes in frugal living.
Pros: 
This wallet comes in nine variants, each made of fine-grained hand-picked leather.
It is equipped with RFID technology that ensures safety for your valuable data.
The wallet is fully functional and has three slots to hold cards, one ID card window, and two powerful magnetic clips to secure cash.
Travelambo offers a one year warranty for both refund and replacement.
Cons: 
The wallet is not cruelty-free as it is made of cowhide leather.
The cash holding capacity is inadequate.

15. Carbon fiber aluminum wallet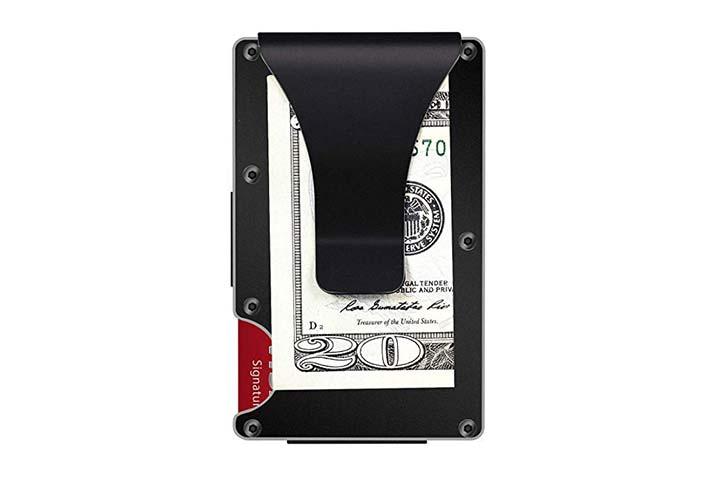 Looking for a super stylish, slim, and ultra-light wallet? Here is one for you!
Pros: 
It comes in 14 cool variants, with unique prints.
The wallet has a sleek design but can still easily hold up to 12 cards.
It is made of aluminum and stainless steel, which makes it sturdy and long-lasting.
The money clip behind the wallet can hold currency notes.
It can easily fit in the pocket.
Cons: 
The wallet lacks the option of holding multiple notes and has no provision for coins.

While buying a wallet, the considerations of each person differ as their requirements do. Therefore, go through the product description and reviews carefully. Then buy a wallet that you would love to use.
Have you added a wallet into your cart already? Tell us about the must-have features you look for in a wallet, in the comment section below.
Disclaimer: MomJunction may earn a commission when products are purchased through affiliate links given in the article. However, this partnership does not influence the editorial content featuring on our list.
Was this information helpful?
The following two tabs change content below.
Latest posts by Harshita Makvana (see all)

Harshita Makvana
Harshita is a graduate in commerce and holds a PG Diploma in Patent and Copyrights Law from NALSAR University. She has also pursued CA and has more than three years of internship experience in auditing.Her love for travelling has taken her to various parts of the world, and writing the travelogues has what brought out her love for content writing.Harshita has experience in writing blogs and is passionate about presenting complex subjects in an easy-to-comprehend manner.In her spare time, she works on vegan activism, rescuing animals in need, and trying vegan delicacies.