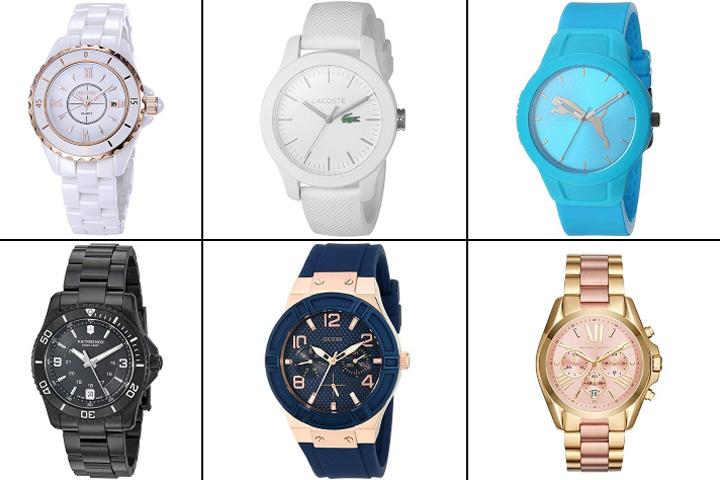 Bangles, bracelets, and watches are some of the most important accessories for girls. When it comes to watches, girls are particular about the size, style, tone, features, brand, etc. Everything about the watch has to be just perfect. It is not an exaggeration to say that when you go to buy watches for girls, you should know what they want and pay attention to detail.
If you are planning to buy a timeless timepiece that girls can use, then this MomJunction post is for you. Here, we list 15 cool girls' watches that young girls will fall in love with at first sight.
15 Best Wrist Watches For Girls
Here are some watches that you may want to consider buying.
1. Michael Kors Bradshaw Two-Tone Stainless Steel Watch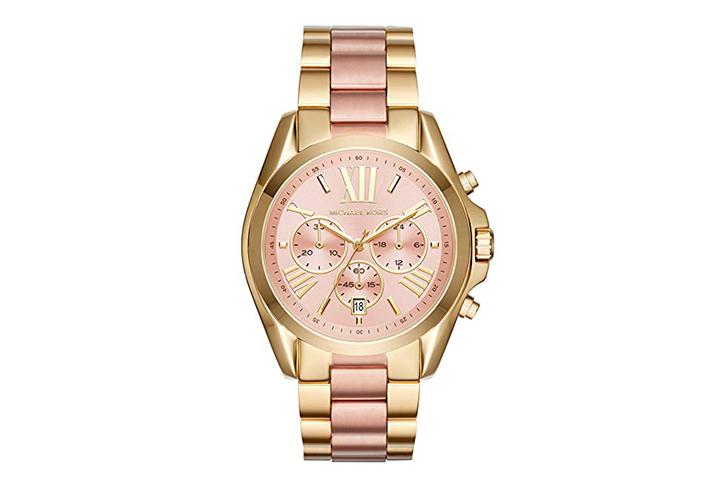 This classic timepiece is for girls who like to wear elegant and stylish wristwatches.
Pros:
This Michael Kors watch has a beautiful two-toned rose gold bracelet-style strap and stainless steel case with a chronograph movement.
It displays date and time and has a chronograph-style movement.
The water-resistance level of this watch is up to 50m.
Cons:
This watch is not suitable for extreme sports or underwater exposure.
The stainless steel body may irritate some skin types, especially during hot weather conditions.

2. Seiko Swarovski Crystal-Accented Stainless Steel Solar Watch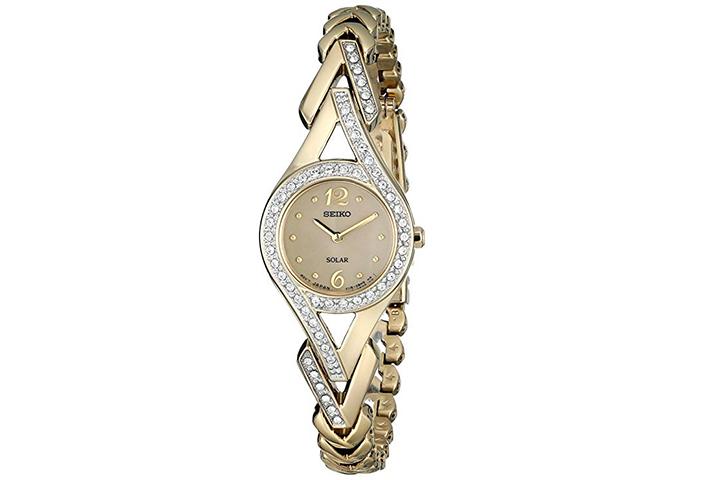 Every other watch or accessory you own may look minimal or boring when you buy this beautiful watch adorned with crystals.
Pros:
This solar-powered Seiko watch features sparkling crystals on the lugs and bezel. It is powered by solar energy.
The watch has a stainless steel body and is durable.
The watch has an analog display.
The push-button clasp closure makes the watch convenient to wear.
Cons:
The watch is only 30m resistant to water and can withstand only mild splashes but not suitable for shower or swimming.
Some girls are sensitive to stainless steel, and it may irritate their skin.

3. Kate Spade New York Metro Wrist Watch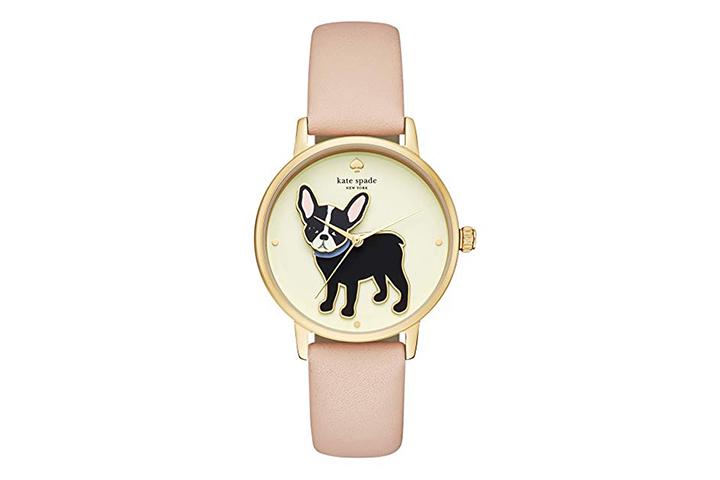 Whether or not you love dogs, this cute Frenchie on the dial will melt your heart. The watch is also available in other cool designs on the dial.
Pros:
The watch has a sleek and stylish design, and its strap is soft on the skin.
Has the Japanese-quartz, analog movement.
The watch weighs only 4.5 grams, making it lightweight on the wrist.
Cons:
It only features the basic function of time display and is not ideal for someone who wants more features.
This watch is made of calf-skin leather and is not cruelty-free or vegan.
Water-resistance is only up to 30m. Hence, not suitable for swimming or bathing.

4. Guess Rigor Stainless Steel Watch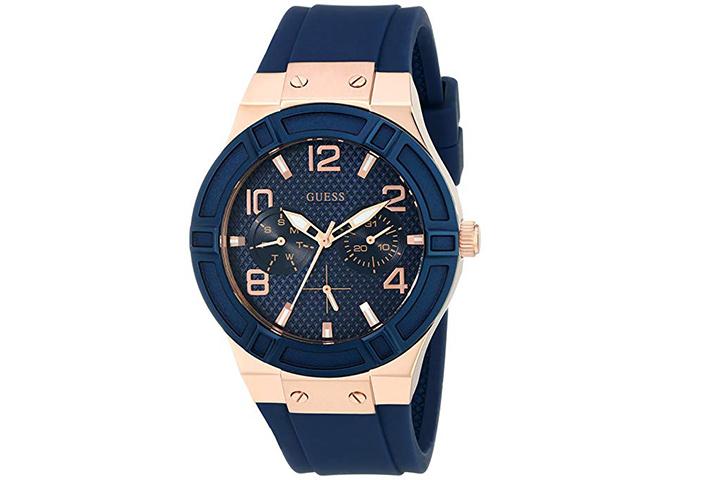 This iconic blue watch by Guess should be on your wishlist.
Pros:
The watch has a blue multi-functional dial that features date and day functions.
The indigo blue silicone strap of the watch is soft and gentle on the skin.
It has a polished rose gold dial with blue detailing, which looks very attractive.
The watch has water resistance up to 50m.
Cons:
The dial is a little big and might be bulky for some girls.
Its silicone strap requires adequate care and maintenance to avoid wear and tear.

5. Tommy Hilfiger Stainless Steel Watch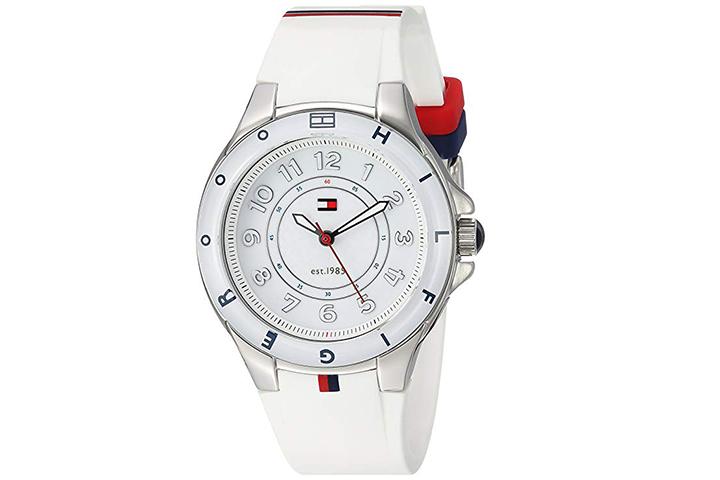 This uber-cool watch will get people talking. And don't be surprised if some are even jealous!
Pros:
The watch has a silicone band with buckle closure for ease of use.
It features quartz movement and analog time display.
The branded silver-toned bezel on the watch with the Tommy Hilfiger logo is impressive.
The dial shows numerals for hours, and the inner circle also displays the seconds.
The best thing about this watch is the 10-year warranty offered by the brand.
The battery lasts 18 to 36 months.
It can withstand water resistance up to 50m.
Cons:
The white strap may get dirty soon and require regular cleaning.

6. Anne Klein Bangle Watch and Swarovski Crystal-Accented Bracelet Set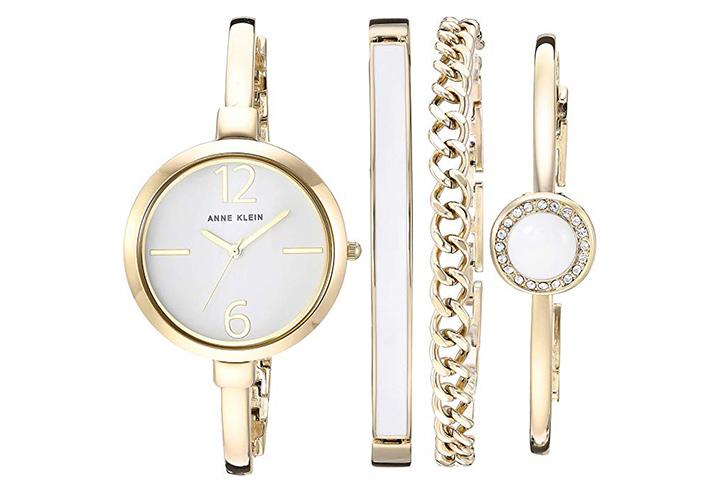 Sometimes, wearing just a watch is not enough. This Anne Klein watch comes with three charming cuffs/bracelets to enhance its looks.
Pros:
It comes in three color variants of gold, gold with pink, and rose gold.
The watch has a Japanese-quartz movement.
Cons:
The watch is not water-resistant.
The dial, bezel, and band are made of alloy and metal that may not suit all skin types.

7. Puma Reset V2 Sport Silicone Watch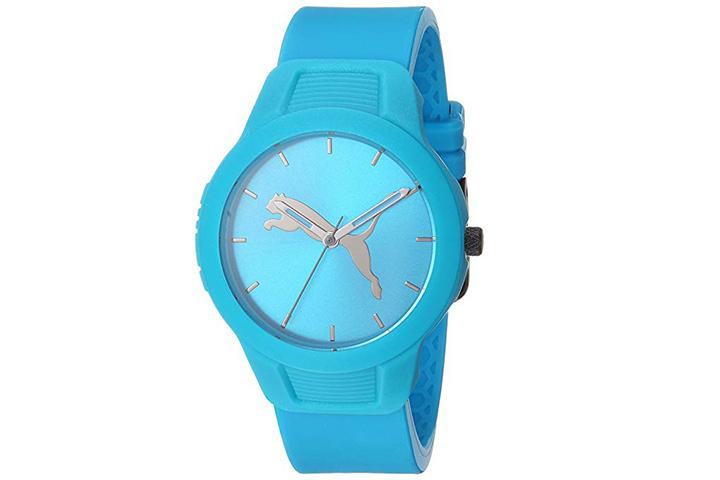 Ideal for girls who play sports, this Puma watch makes the perfect accessory for those who are active and spend time outdoors.
Pros:
This Puma reset watch is available in five different colors.
It features a sunray dial with a three-hand quartz-movement and analog display.
The band of the watch is made of polyurethane material and has a clasp buckle closure.
Its water resistance is up to 50m.
Cons:
The plastic case of the watch may not be very durable.
The design is rather plain even for a sports watch.

8. Citizen Eco-Drive Axiom Watch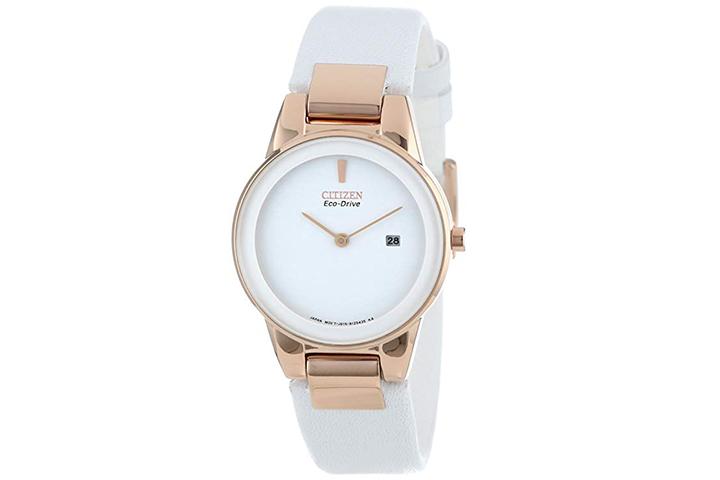 Just time. And date! That is all that this watch, with a minimalist design, has. If you are a no bells and whistles kind of person and need a simple watch to tell you what hour it is, this is a good pick.
Pros:
This eco-drive Citizen watch is powered by light. Therefore, it never needs a battery.
The rose gold-tone detailing on the dial, and the white leather band with buckle closure is easy to wear.
It has a simple analog display with quartz movement powered by light.
The minimalist design gives it a sleek and stylish, yet powerful look.
Cons:
Low resistance to water. It can only withstand rain and a few splashes of water. It is not suitable for showering or swimming.
Not cruelty-free as the strap is made of leather.
If the watch is not exposed to sunlight, certain functions may not be as effective.

9. Lacoste Quartz Resin and Silicone Watch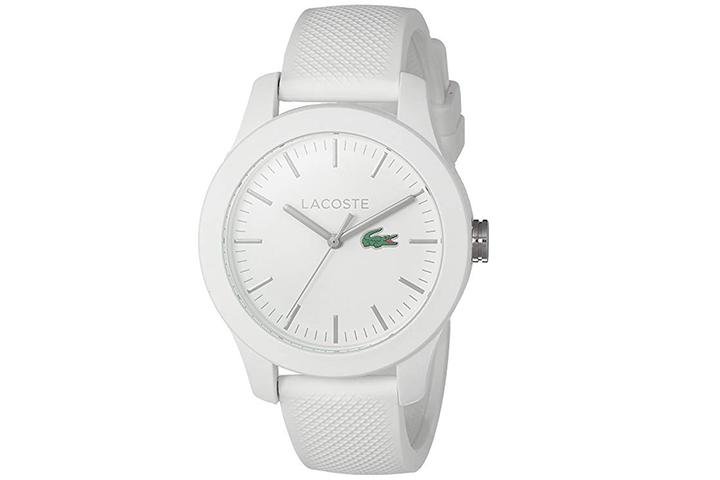 This is a minimalist white watch you want to accessorize with a simple outfit like a basic tee with a pair of jeans.
Pros:
The white rubber and silicone strap is safe on the skin.
Its durable mineral crystal protects the watch from any scratches.
The watch has a basic quartz movement with minutes and hours hands.
It's lightweight and compact.
Cons:
The water resistance is very low and loses its functionality when exposed to water.

10. Casio Baby-G Analog-Digital Watch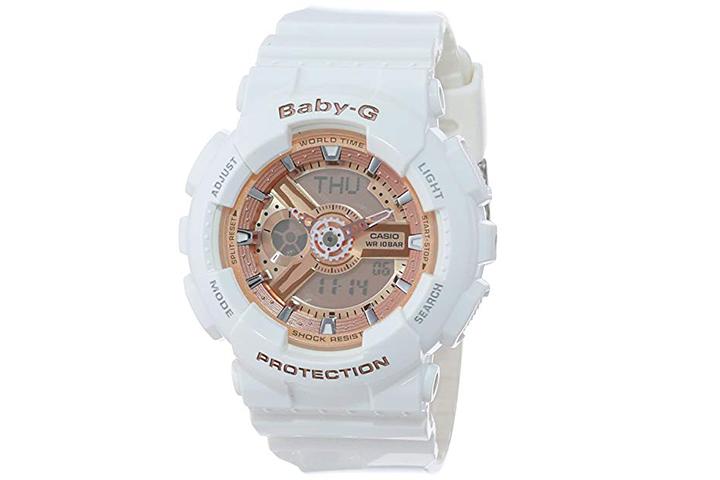 This shock-resistant Casio watch comes in a beautiful white, pink and rose gold color.
Pros:
The watch is made of a material that is a blend of plastic and resin. It comes with buckle closure that is convenient to use.
The rose gold detailing on the dial makes it very attractive.
It supports multiple features, including LED light, world time, alarm, snooze option, stopwatch, countdown timer, and time display.
The watch features both quartz analog movement and digital display.
It is shock-proof and is water-resistant up to 100m.
Cons:
As the watch is made of plastic, its durability cannot be guaranteed.

11. Victorinox Swiss Army Maverick Small Watch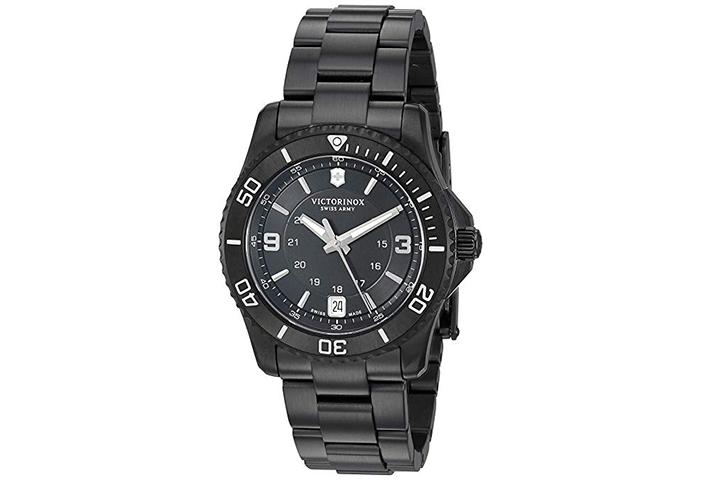 Make a power statement with this big, bold, and robust watch.
Pros:
It comes in eight variants, each unique in color and pattern.
The watch is made of stainless steel and has a double-locking deployant safety clasp that makes it safe and convenient to use.
This Swiss army watch is renowned for its design, quality, and functionality.
It has an analog quartz-movement and displays the date as well.
It is water-resistant up to 100m and can be on for swimming, showering, or snorkeling.
Victorinox offers a three-year warranty on the watch.
Cons:
Stainless steel may irritate certain skin types.

12. Fossil Georgia Quartz Stainless Steel and Leather Casual Watch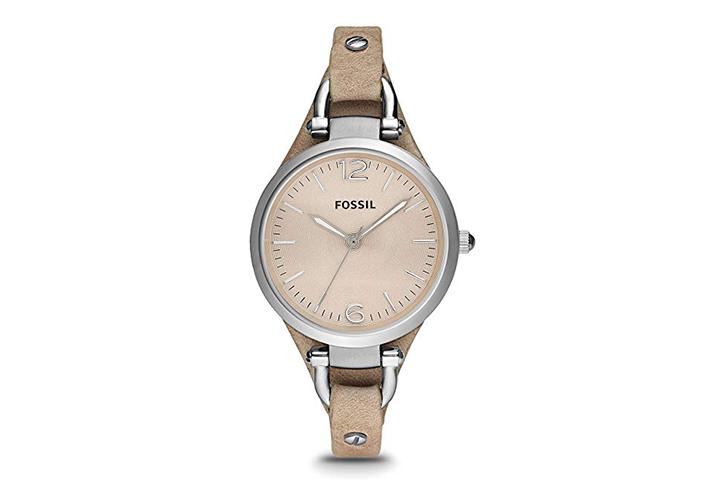 Looking for a sleek design? This Fossil watch is the one!
Pros:
It comes in five simple and minimalist variants of different colors.
It is made of genuine leather and has a buckle-style closure.
The watch has a basic quartz analog movement and is water-resistant up to 50m.
Cons:
The watch has bands made of leather and is not cruelty-free.

13. Swatch Atilbe Graphic Dial Plastic Quartz Watch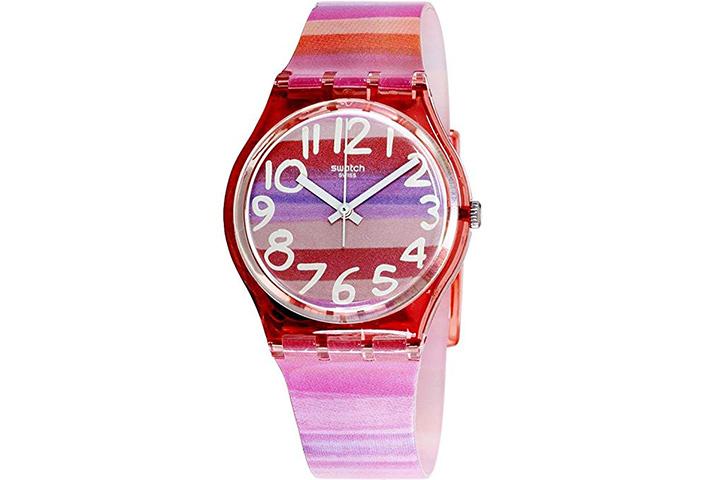 This vibrant Swatch timepiece is ideal for little girls or for anyone bored of wearing plain colors.
Pros:
The watch is pretty and has a colorful pattern that makes it very attractive.
The body of the watch is made of plastic.
It is water-resistant and can be used even for swimming or under the shower.
Cons:
It is not very sturdy or durable.

14. Nakzen Analogue Watch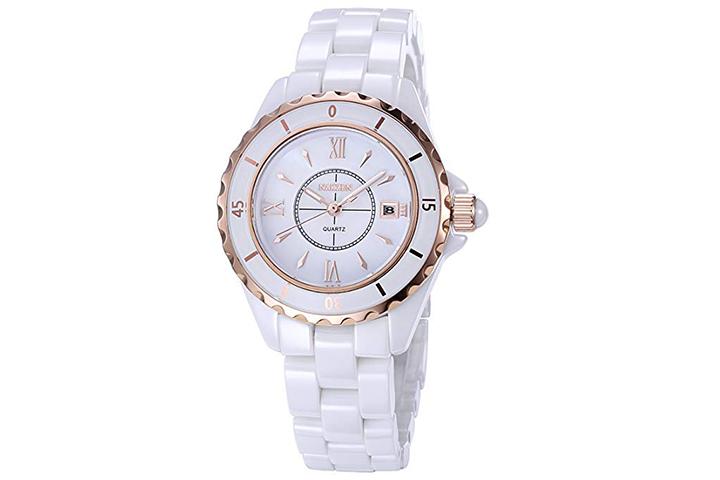 With looks like that of a luxurious watch, this is a feel-good watch that doesn't pinch your pocket.
Pros:
The case of the watch is made of ceramic and stainless steel.
It is a basic quartz watch, which means its battery power can last long.
The watch weighs around 100 grams that make it lightweight and gentle on the wrist.
The exquisite dial with rose-gold detailing adds a special charm to the watch.
The push-button clasp makes it easy to wear and operate.
It is fade and dirt-resistant.
Cons:
Some users may experience irritability on the skin.
Its capacity to resist water is basic. So even accidental spillage of water may damage the mechanism.

15. Sarah Dennis Dial Watch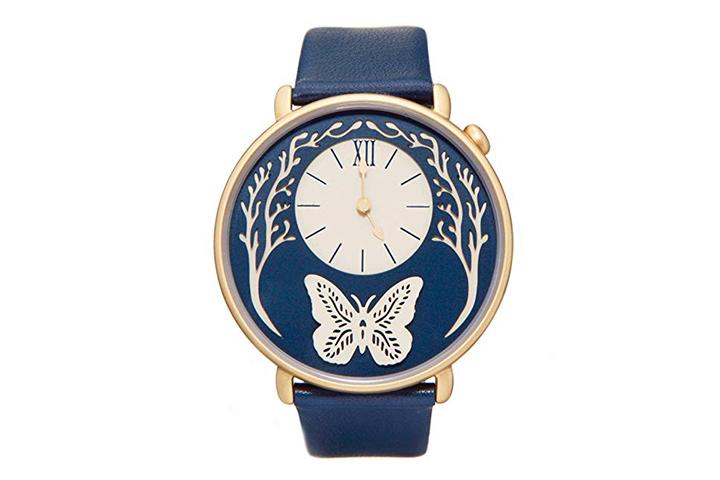 If you want to flaunt art on your wrist, this is the watch for you.
Pros:
The bands of the watch are made of genuine soft leather.
The dial is custom-designed by artist Sarah Dennis, and it comes with two interchangeable straps: a cream-colored strap and a navy blue one.
The dial has a triple-layered textured effect with a raised butterfly design.
It has a buckle-style closure and basic quartz movement.
Cons:
The watch is made of genuine soft leather and is not cruelty-free or vegan.
The water resistance is pretty low, only up to 30m.

How To Take Care Of Your Watch?
You have invested a lot of money and want the watch to last really long. Wondering how to do that? Here are some easy tips to keep your watch in good condition for a long time.
Clean it as often as possible, with a soft cloth.
Avoid exposure to magnetic objects, which may damage the mechanism.
Ensure that the watch is not exposed to heat or sunlight and keep it away from any chemicals.
Understand its resistance to water and avoid using it in rains or when participating in water sports or activities.
Get the watch serviced or repaired whenever required.
Store the watch in a secure box when you are not using it.
Whether you are buying a watch for yourself or someone very dear, go for something snazzy and also convenient to use. Style, comfort, and design should all go hand-in-hand.
Which of these watches is on your wishlist? Do share your favorites in the comment section below.
Disclaimer: MomJunction may earn a commission when products are purchased through affiliate links given in the article. However, this partnership does not influence the editorial content featuring on our list.
Was this information helpful?
Comments are moderated by MomJunction editorial team to remove any personal, abusive, promotional, provocative or irrelevant observations. We may also remove the hyperlinks within comments.
The following two tabs change content below.