What if, one day, your kids walk up to you and insist on driving your car?
What do you do? Simple. Just buy them their own Maserati or maybe a Mustang or a Porsche! No, we are not joking. Your kids can drive their own car, and you do not have to worry about it because you will be controlling it with a remote control. And the fuel cost involved is zero because we are talking about ride-on electric cars for kids.
Children's electric cars are miniature versions of real cars, with motors that run on rechargeable batteries. They can either be driven like a real car or controlled with remote control. MomJunction brings you all the information you need about electric vehicles along with some of the top-rated electric car models available out there.
How To Choose The Best Electric Car For Your Child?
Here are some important points to consider before choosing a car.
Age: The car model might be designed keeping the child's age group in mind. Pick a car that your child can comfortably fit in, with features or controls that they can easily handle.
Safety: The little electric cars run at a very low speed, but it is still essential to have all safety measures. This helps your child to learn about the importance of wearing a seat belt while driving.
Price: Electric powered cars for kids, like regular cars, do not come cheap. But some brands sell good models with various features at reasonable prices. Depending on your budget and requirement, decide upon the car you can buy for your child.
Motor voltage: An electric car's smooth movement depends on its voltage. These car motors come in three voltages: 6v, 12v and 24v. So a car with 6v is more suitable to work indoor while a car with 24v will easily move on difficult outdoors.
Battery: Check how long the battery of the electric car lasts after one recharge. Pick a vehicle with a long-lasting battery.
Remote control: If your children are still young to drive this mini-vehicle, then you can help them by controlling their vehicle with a remote control. In case your child gets stuck or goes too far away, you can bring them back with the click of a button on your remote.
Model: Imagine how cute it would be if your child drove a Mercedes. While selecting a model for your child, ensure that it not only looks good but is also comfortable for your child to sit and operate. Kids are attracted to fancy cars so you can opt for a model that your child will love driving.
Added features: To give your child a realistic driving experience, companies have models that come with music players, radios, horns, headlights, and other devices that you find in a real car. You can play your child's favorite music as they drive around. More the features, the higher the price.
Considering all the factors mentioned above, we have created a list of top-rated electric car models for children.
9 Best Electric Cars For Kids
1. Best Choice Products 12V Ride On Car Truck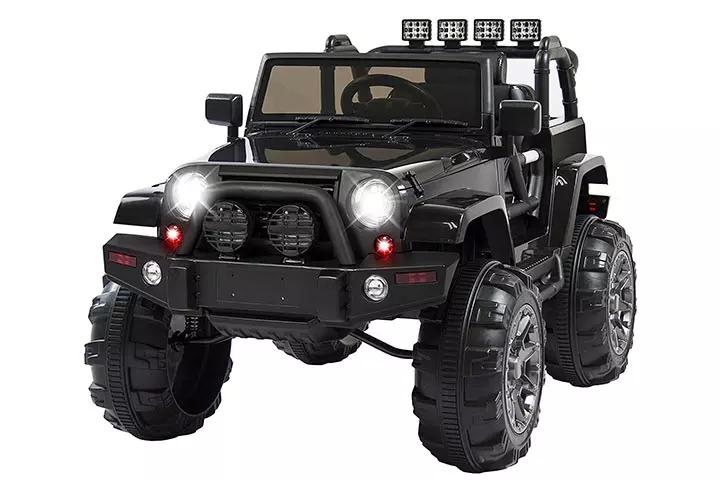 Its non-toxic plastic body, with adjustable seat belts, makes it look like a real truck. Its 14-inch traction wheels with a spring suspension system and 12v motor ensure that your kid has a smooth ride even on rocky terrain. The remote control enables you to take charge of the truck whenever you want. This jeep is suitable for kids aged 3 to 8 years.
Pros:
Can be operated with remote control as well as the in-car control system
Comes with a music player and LED lights
AUX outlet enables playing from other media devices
Available in five colors
Cons:
The seat is slightly hard and does not come with padding
Poor customer service by company

2. Uenjoy Maserati GranCabrio 12V Electric Kids Ride On Cars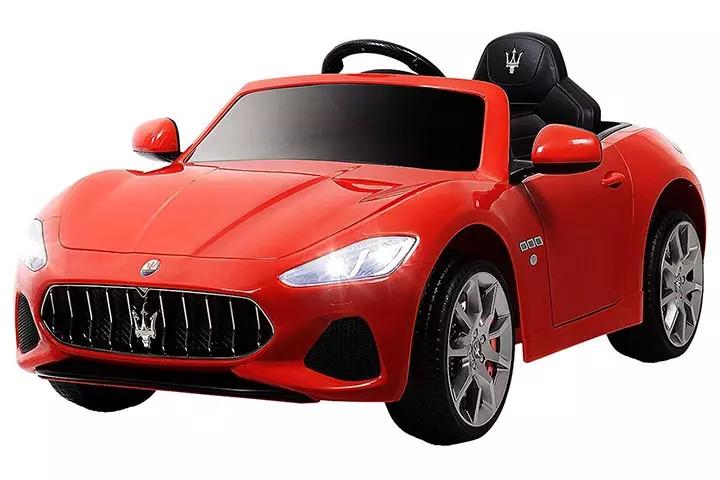 What can be more stylish than a red Maserati? This cool single-seater electric car comes with a gas pedal for your child to drive easily, and remote control, so you take control of this little vehicle whenever you want. Its 12v motor makes outdoor rides smooth and simple. It is suitable for kids aged 3-12 years.
Pros:
One year free replacement of parts
Single charge runs for almost an hour
Comes with in-built Bluetooth and FM radio
Doors are lockable
Cons:
Moves relatively slower than other electric cars

3. Power Wheels Disney Frozen Jeep Wrangler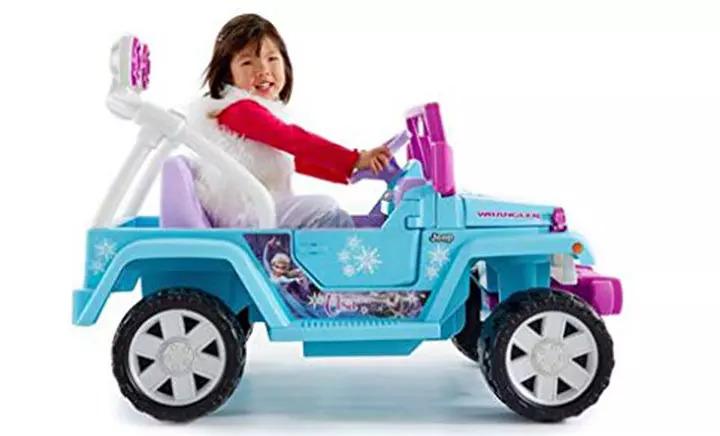 This blue and purple two-seater jeep comes with cute Disney Frozen stickers and graphics. Its maximum speed going forward is 5mph, and the reverse speed is 2.5mph. Suitable for kids aged 3-7 years.
Pros:
Unique and colorful design
Comes with a built-in radio
Easy to assemble
Long-lasting battery
Cons:
May not be suitable for children too small
Radio plays only two Frozen songs

4. Uenjoy 12V Kids Ride On Car Mercedes-Benz SL500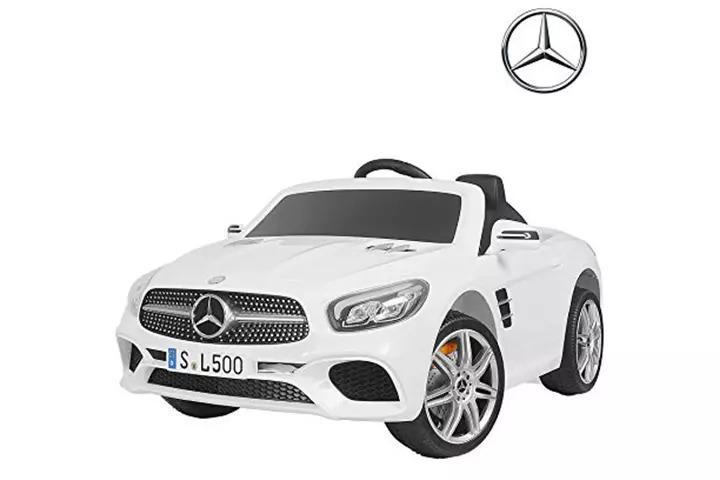 With two powerful 12v motors, this gorgeous single-seater Mercedes-Benz looks and rides like a real Merc. Your child can take full control of the vehicle by handling the foot pedal and shift lever. It is suitable for kids aged 1-5 years.
Pros:
Comes with manual and remote control
Spring suspension on wheels ensures a bump-free ride
Music system connectable with other devices through USB or Bluetooth
Easy to carry and transfer
Suitable for indoor and outdoor riding
Doors come with double locks
Cons:
May not ride so smoothly over extremely rough surfaces
Battery often malfunctions

5. Best Choice Products 12V Kids Battery Powered Remote Control Electric RC Ride-On Car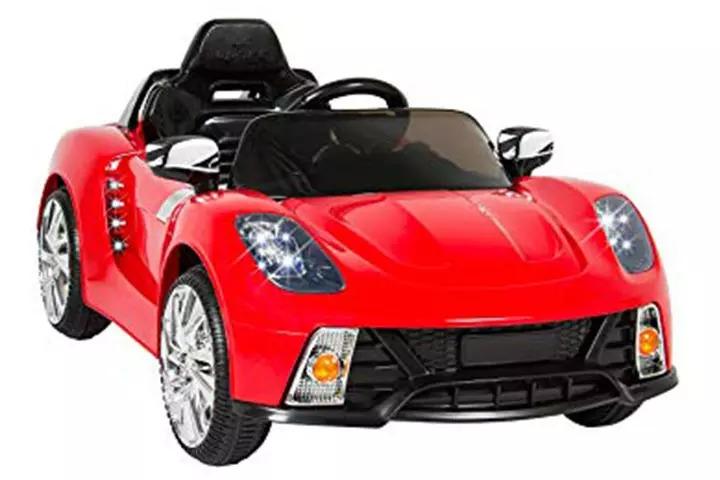 With real horn and engine sounds, this glossy car gives the most authentic feel of a car. Its 12v battery-powered motor makes it a good ride indoors as well as outdoors. It comes with two-speed options so that you can adjust it as per your child's preference. Suitable for kids aged 3-7 years.
Pros:
Running time 1-2 hours
Available in two colors
AUX outlet enables playing music from media devices
Controlled manually and with remote control
The LED headlights make it fun to ride at night
Cons:
The battery does not last long
Remote controls over a very short range

6. Costzon Ride On Car, Licensed BMW Mini Cooper Electric Car 4.2/89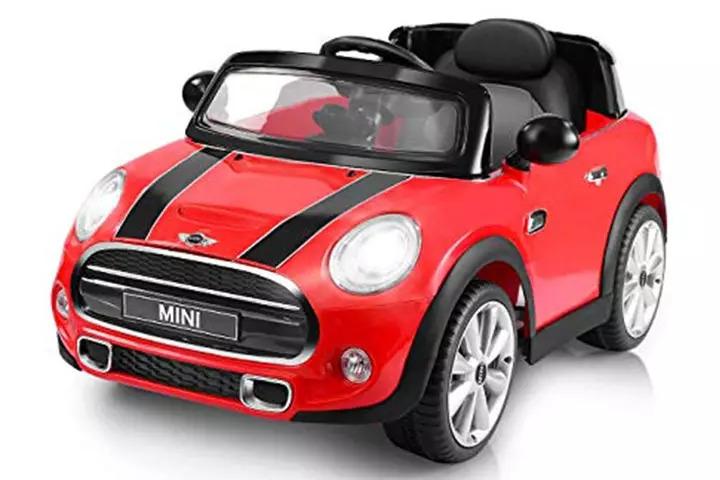 If Mini Cooper has been your dream car, then you can finally buy it. Maybe not for yourself but your little kid. It comes with a 12v battery-powered motor that is suitable for riding indoors as well as outdoors but on flat surfaces. It also has two wing mirrors for your kids to check their reflection before setting out on a fun ride. Suitable for kids aged 3-6 years.
Pros:
Easy to assemble
Adjustable speed
Available in three colors
Comes with LED lights and MP3 input
Operated with foot pedal and remote control
Cons:
Poor battery
Makes jerky movements

7. Best Choice Products 12V Kids Bentley EXP 12 Ride-On Car
A Bentley is the absolute definition of luxury. And this applies to this electric version for kids too. It is officially licensed and designed like a real Bentley. It comes with a leather seat, speed control, LED headlights, and all the basic features of a luxury car. Suitable for kids aged three years and above.
Pros:
Available in two colors
Operated manually and with a remote control
Suitable for indoors and outdoors
Built-in AUX outlet enables connection to multiple media devices
Cons:
Manual controls can malfunction
The seat belt may not fit every kid

8. Carbon BLACK SLS AMG Mercedes Benz Car for Kids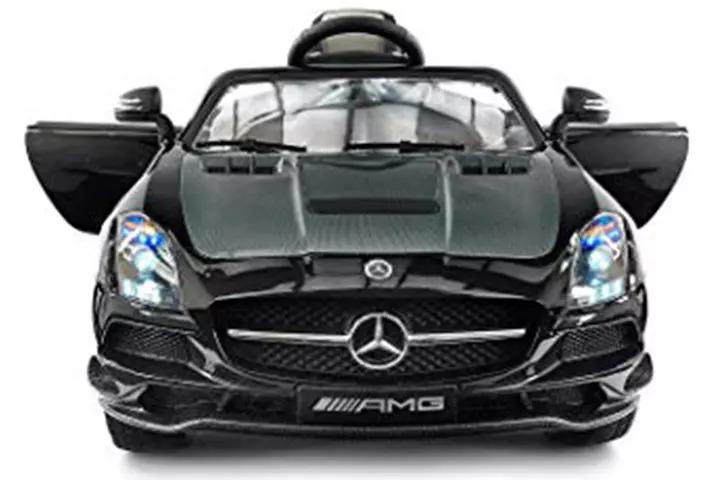 Your child can have a comfy ride on the adjustable PU leather seat. LED lights around the tires and the dashboard makes it absolute fun to ride at nighttime. It comes with two speeds and two motors for easy navigation. The best feature about this car is the trunk space to keep your child's other toys. Suitable for kids aged 2-6 years.
Pros:
Offers speed control
Easy to carry and transport
Comes with an MP3 player options
Available in multiple colors
Cons:
Low battery power
Paint comes off easily

9. Moderno Kids Mercedes CLA45 Children Ride-On Car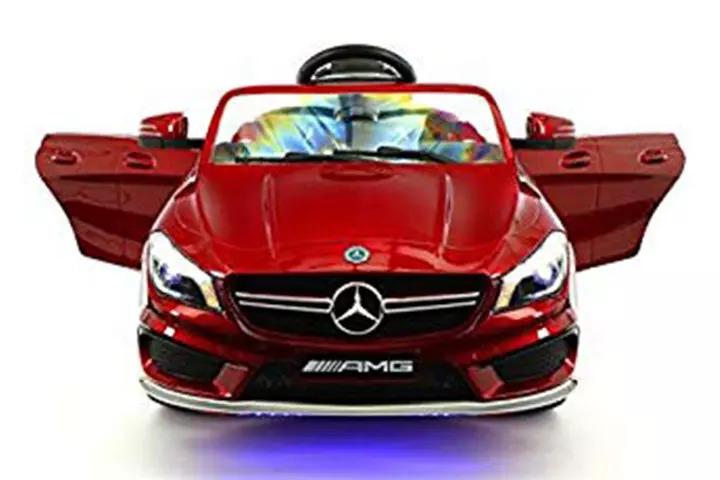 With a shiny exterior and soft leather seat, it looks and feels like a luxury car. Your kid can even listen to music as its in-built MP3 music player plays from micro SD card, USB Flash Drive, and other compatible music devices. Its five-point safety seat belt ensures additional safety. Suitable for kids aged 1 to 5 years.
Pros:
Easy to assemble
Available in multiple colors
Can be operated manually and with remote control
Soft EVA foam rubber tires give good stability to the vehicle
Cons:
Poor battery power
Dismal performance outdoor

Driving an electric car can develop your child's coordination skills. It encourages your child to operate vehicles skillfully and carefully. It builds your kids' confidence and gives them a sense of adventure. Even though electric cars are known to be safe, it is always good to exercise caution and let your child play with it under your supervision. And models with remote control are a better option since you can have control over their safety.
Of all the beautiful electric cars listed above which one did you like the most? Do let us know in the comments section below.
Disclaimer: MomJunction may earn a commission when products are purchased through affiliate links given in the article. However, this partnership does not influence the editorial content featuring in our list.
Was this information helpful?