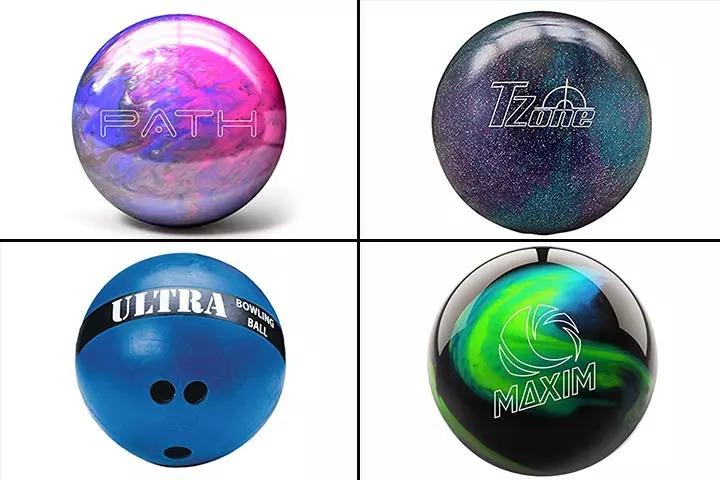 Bowling is a fun sport and activity. Rolling a ball and seeing the pins fall can excite both adults and children alike. Just like any other sport, this activity also provides avenues for exercise. One needs to maintain proper balance and hand-eye coordination to throw the bowling ball accurately towards the pins.
A variety of bowling balls are available for children. So which ones are the best? We at MomJunction helps you out with it. In this post, we present a list of best bowling balls for kids.
What To Look For In A Bowling Ball For Kids?
Buying a good bowling ball can be challenging when you do not know what to look for. Here are some pointers that can help you make a good choice.
Weight: In bowling, the weight of the ball plays a significant role. The weight of bowling balls can range from 6lb (2.7kg) to 16lb (7.2kg). For kids, you can start with the lightest weight that you think the child can handle easily. Later, increase the weight gradually according to your child's weight and ability to handle.
Finger holes: Bowling balls often do not come with finger holes. You need to visit a professional bowling shop, have the child's hand measured, and get the holes drilled. Some bowling balls do come with finger holes, and some have multiple sets of holes to accommodate different hand sizes. You can pick a bowling ball with or without finger holes, depending on what is convenient for you.
Now that you know what to look for in a kid's bowling ball, have a look at these bowling balls that are our favorites.
9 Best Bowling Balls For Kids
1. Pyramid Path Bowling Ball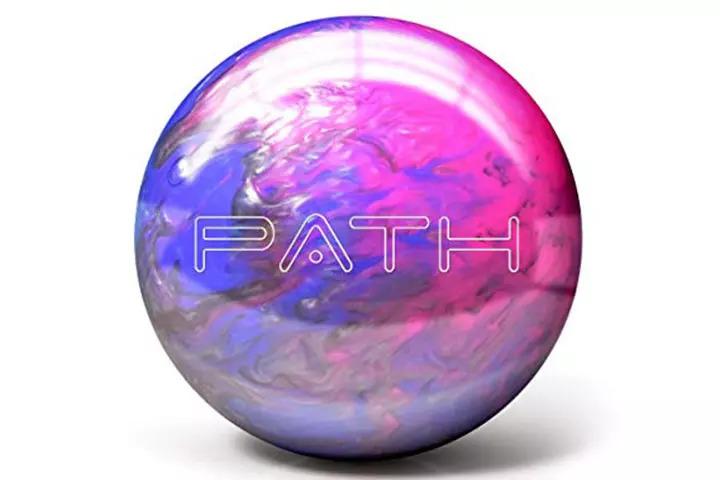 This bowling ball in vivid colors is quite likely to stand out. These balls are available in multiple weights and colors. It is an undrilled ball, which means you can customize the finger holes on it for the best fit.
Pros:
Suitable for beginners.
Available in 15 attractive color themes.
Comes with a polyester coverstock (exterior) that makes the ball ideal for straight shots.
Cons:
Some buyers noticed that the ball tends to crack easily.

2. Brunswick Tzone Deep Space Bowling Ball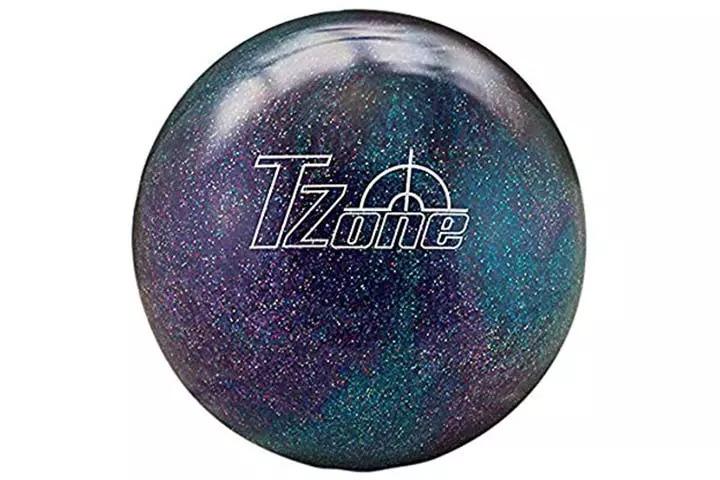 This galaxy-themed bowling ball comes from a brand called Brunswick, which is quite popular for its bowling products. This is a great ball for kids, who are new to bowling and for parents who want a bowling ball from a good manufacturer.
Pros:
The ball comes in ten attractive, galaxy-inspired color themes.
The polyester surface of the ball is attractive and glittery.
It is ideal for throwing a straight ball.
Cons:
Some buyers noticed that the ball tends to crack when finger holes are drilled into it.

3. Ultra Bowling Ball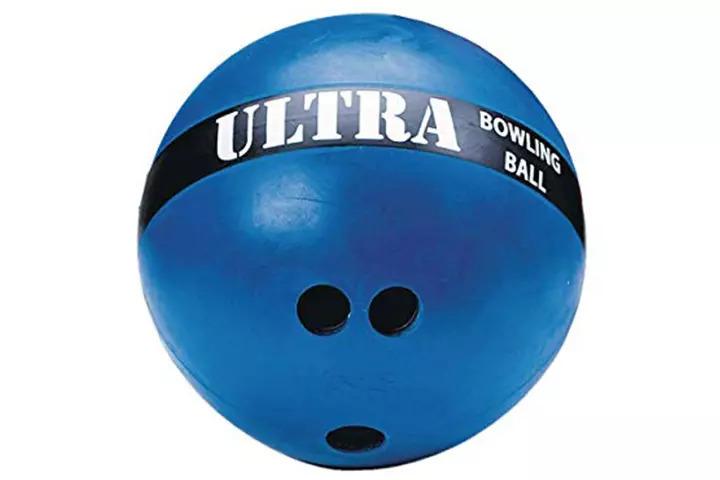 This rubber bowling ball is made for your tiny little bowling enthusiast. It is a great ball to practice at home or to teach beginners.
Pros:
Comes with two sets of pre-drilled holes.
The ball is made from hard rubber, which is heavy enough to feel like a real bowling ball.
Since the ball is made from rubber, it may not crack or split easily.
Cons:
The ball cannot be used at a conventional bowling alley since it is made from rubber.

4. Ebonite Maxim Northern Lights Bowling Ball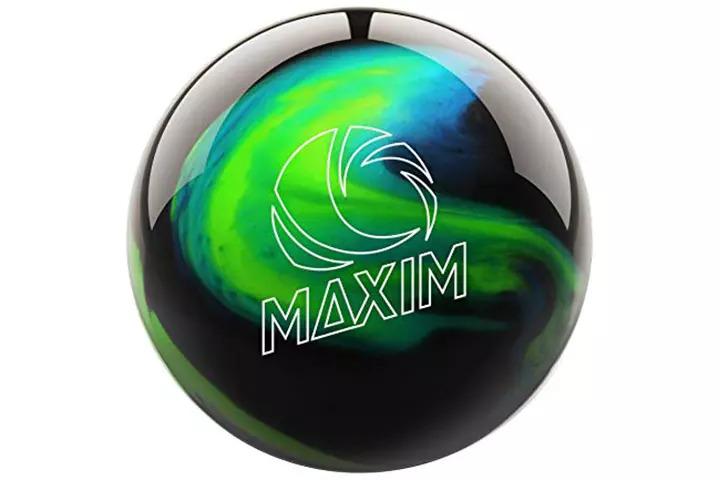 This attractive northern lights-themed straight ball is ideal for kids as the color is attractive.
Pros:
It comes in a beautiful fluorescent color inspired by the northern lights.
The ball is ideal for beginners and also for professionals who are looking for spares.
It comes in nine weight options.
Cons:
It comes in one color choice only.

5. Brunswick Rhino Bowling Ball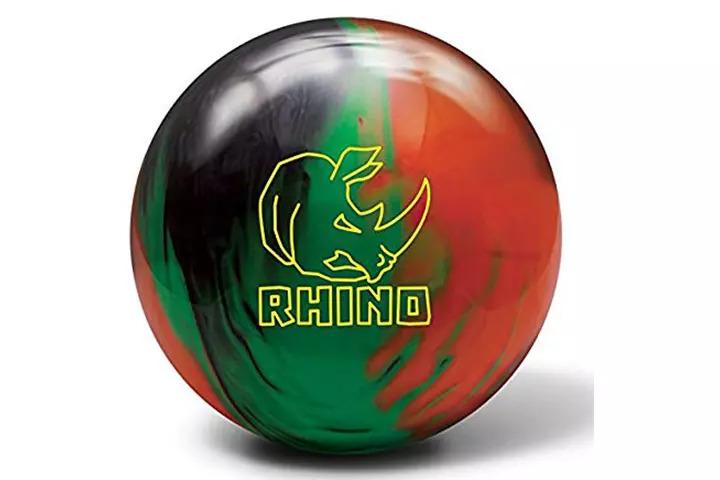 If you are looking for a ball with great hook potential, then you can pick this reactive resin ball for your kid. It is designed to suit rookies yet performs like a bowling ball used by professionals.
Pros:
It rolls easily over lighter to medium oil lanes thanks to its reactive resin coverstock.
The resin allows for hook potential. This feature is ideal for children who are intermediate to advanced players.
The light bulb core allows for the smooth movement of the ball.
Cons:
A few buyers did not find the ball durable since it tends to chip away.

6. Pyramid Path Rising Pearl Bowling Ball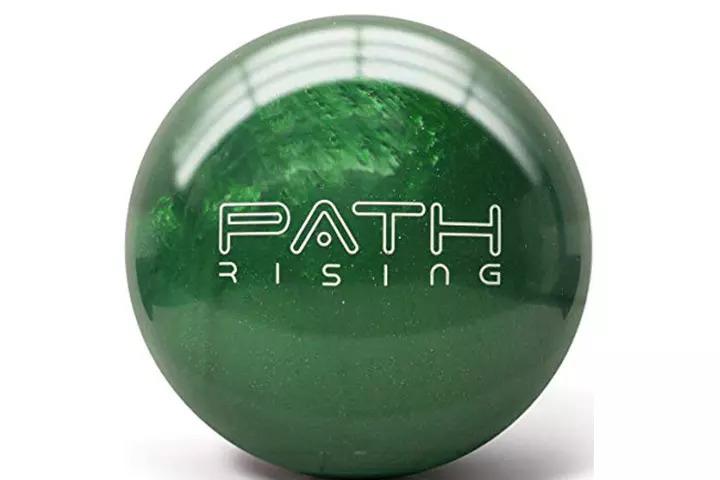 This bowling ball is for beginners and thus works great for kids who are setting their first steps into this sport. It is undrilled so you can create finger holes to suit your child.
Pros:
The bowling ball comes with symmetric core that makes drilling safe and easy.
The polished coverstock gives the ball an attractive look.
It can easily be used on medium-dry lanes.
It comes in eight attractive colors.
Cons:
Some buyers found the color to be dull and not as expected.

7. Ebonite Maxim Bowling Ball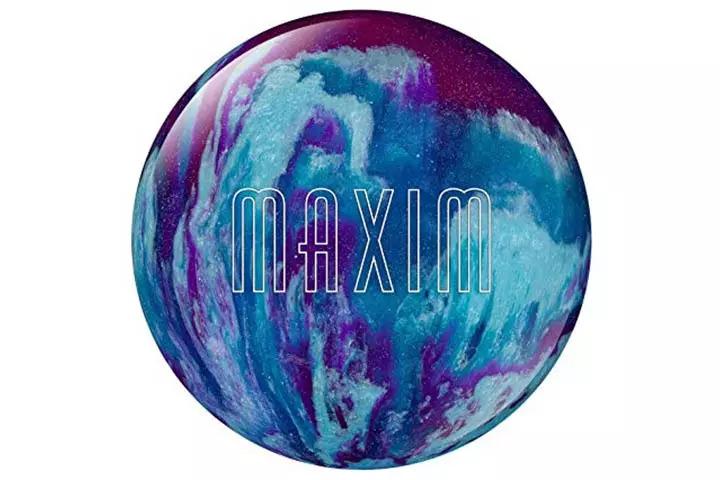 This entry-level bowling ball comes in a three-color blend that makes it attractive. Its polyester coverstock makes it an ideal choice for dry lane conditions.
Pros:
The design is attractive and beautiful.
The polyester construction makes it a bit more affordable than resin bowling balls.
It is great for a straight ball throwing style.
Cons:
Buyers felt that the ball could have been durable since it tends to crack easily.
It comes in only one color option.

8. Brunswick Lizard Eye Glow Viz-a-Ball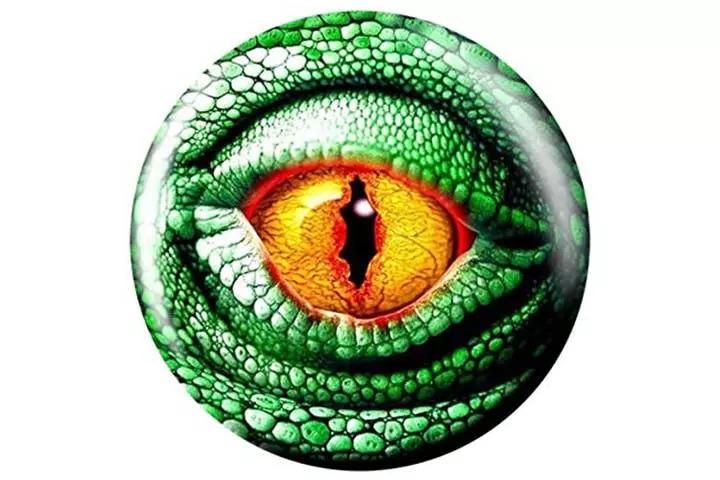 If your kid wants their bowling ball to stand out from the rest, then you can consider this ball that features a striking illustration of a lizard eye. This lizard eye ball has a glow to it. It is a good ball for new bowlers and for those who throw straight at spares.
Pros:
It comes with a highly-detailed imprint of an orange lizard's eye along with green scales around it.
The design is a limited edition one, thus creating a potential of being a collectible.
It rolls smoothly on most lanes.
Cons:
Some buyers noticed that the surface tends to crack and flake off.

9. Champion Sports Plastic Bowling Ball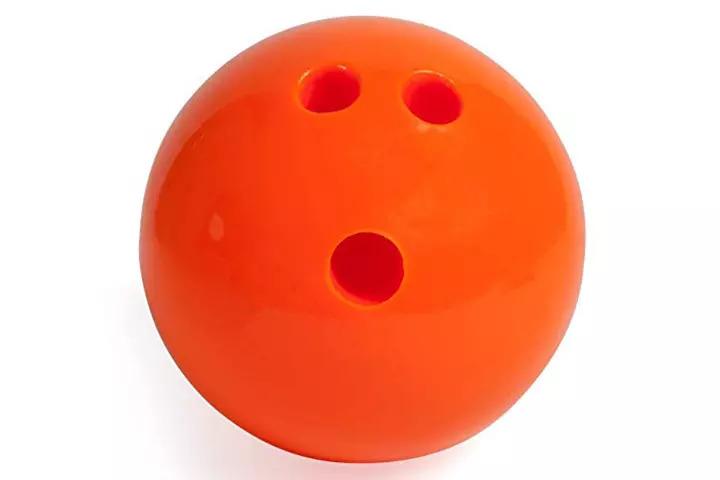 This rubberized plastic bowling ball is what you can buy when your kids want to try bowling at home. This lightweight, bright orange ball helps kids develop their control over the ball and hone bowling techniques.
Pros:
It comes with three drilled holes.
The rubberized texture of the ball makes it easy to grip and throw.
The ball only weighs 3 lb (1.3 kg), which makes it easy to manage for a child.
It is suitable for most hand sizes.
Cons:
Since it is made from rubberized plastic, it is not ideal for bowling alleys.
It comes in one color option only.


Bowling is a popular sport and can be enjoyed by children too. Bowling balls for kids can help introduce children to the sport while sharpening the bowling skills of those who are already into bowling. Pick a bowling ball of the right weight for your child and watch them hone their bowling skills.
Does your child have a favorite bowling ball? Tell us more about it in the comments section below.
Disclaimer: MomJunction may earn a commission when products are purchased through affiliate links given in the article.However, this partnership does not influence the editorial content featuring in our list.
Was this information helpful?
Comments are moderated by MomJunction editorial team to remove any personal, abusive, promotional, provocative or irrelevant observations. We may also remove the hyperlinks within comments.
The following two tabs change content below.