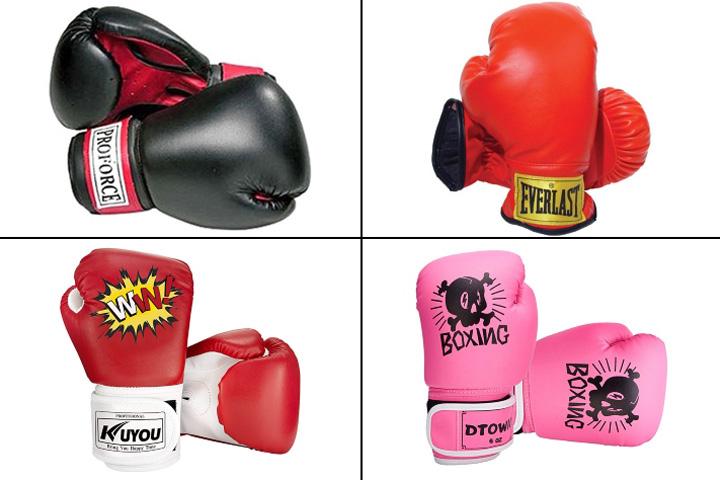 Physical activity can be one of the effective ways to channelize a child's energies. Engaging in sports is both healthy and entertaining for them, and boxing is one such sport. To practice boxing safely, your child will need the right boxing accessories, including a good pair of gloves. In this MomJunction post, we tell you how to select the right boxing gloves for kids, and list some of the best kids' boxing gloves you can choose from.
How To Select Boxing Gloves For Your Child?
The variety of one-on-one combat sports has increased, and so have the types of gloves for such sports. When looking for boxing gloves, here are a few things that you may consider.
Size and weight: Determine the size and weight of the gloves best suited for your child. Boxing gloves are weighed in ounces and range from 4 to 20oz. Being the smallest option available, 4oz is the most suitable for kids. As the size increases, the padding on it also increases, leading to more weight overall.
Material: Boxing gloves are mostly available in leather and vinyl. For little kids, vinyl gloves are a better option because they are cheaper. Additionally, they come with Velcro-like closure, making it easy for them to put and remove.
Padding: There are two types of padding available — horsehair and foam. Horsehair is durable but may not ideal for protecting hands. Foam padding is made from a combination of shock-absorbing PVC foam and latex. Gloves with such padding offer more protection to the hands.
Closure: Boxing gloves come with either lace-up or Velcro-like closure. Experienced boxers mostly use lace-up closure because they fit perfectly and need help to open and close. Velcro-like closure, on the other hand, can be opened and closed without any help but might hurt the opponent while taking a hit.
Hand wrap: In addition to boxing gloves, you should also consider getting a hand wrap that is worn before the gloves. A hand wrap provides extra protection to the hand and helps distribute the impact of an after-punch shock.
Next, let's have a look at some of the best boxing gloves available for children.
9 Best Boxing Gloves For Kids
Here are some of the best ones for you. However, note that the list is not exhaustive, and you may find many more such boxing gloves out there.
1. Xnature 4oz 6oz 8oz PU Kids Boxing Gloves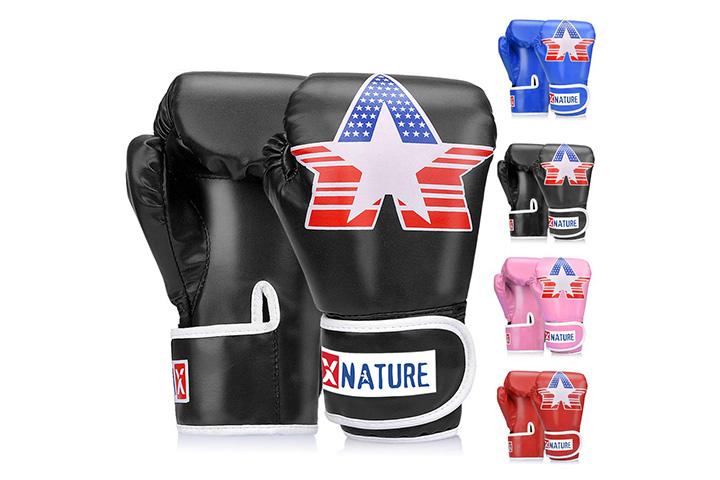 Specially designed for kids, these are great for those who are new to boxing.
Features:
It is made from PU leather and is padded with EVA foam. Its internal, layered mold absorbs the impact of force and keeps the hand safe from injury.
The elastic wrist strap and Velcro closure are adjustable and provide additional wrist support.
Its slit design enables ventilation and keeps the hands free from moisture.
It is available in sizes 4oz, 6oz, and 8oz.
It is suitable for kids aged 5-12 years.

2. RDX Kids Boxing Gloves Maya Hide Leather 4oz 6oz Junior Punch Bag MMA Training Muay Thai Mitts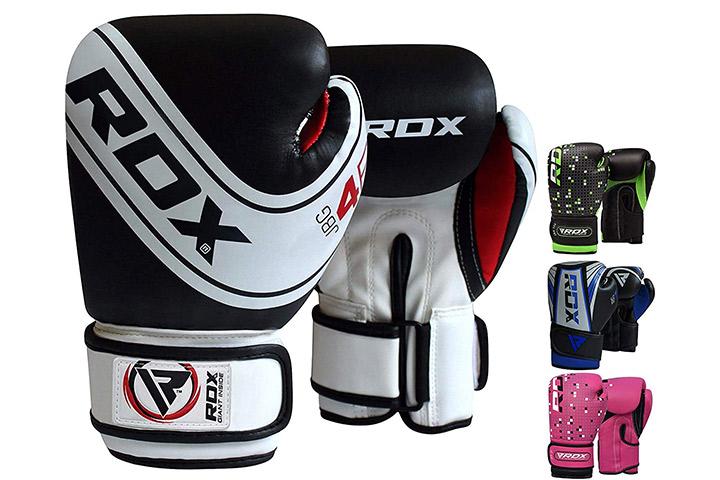 These boxing gloves can take on almost any blow and still last longer than you can imagine.
Features:
It is made of Maya hide leather that does not easily tear or split. Even with frequent use, it lasts long.
It comes with a thick latex padding consisting of shock-absorbent foam that distributes the impact of a punch evenly across the glove.
Its EVA-lution foam padding around the outer wrist protects it from the impact of a punch.
Its cool X palm-mesh technology ensures that the hand remains fresh and free from sweat.
Specially designed for kids, the elastic wristband is easy to put on and take off.

3. Cheerwing Kids Boxing Gloves 4oz Training Gloves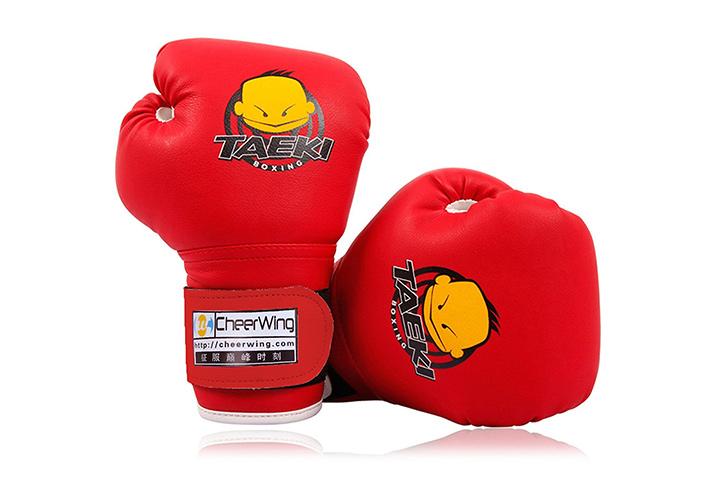 These boxing gloves can motivate children who love anime to adopt a fearless and brave front in the ring.
Features:
These gloves are made from PU leather and are resistant to wear and tear.
Its EVA foaming provides good padding around the thumb and fist peak area to absorb maximum impact.
The elastic wrist wrap ensures a snug fit and keeps the wrist stable.
Available in different colors.
Suitable for kids aged 5-10 years.

4. Dtown Kids Boxing Gloves 4oz 6oz Training Gloves for Children Age 3 to 12 Years PU Leather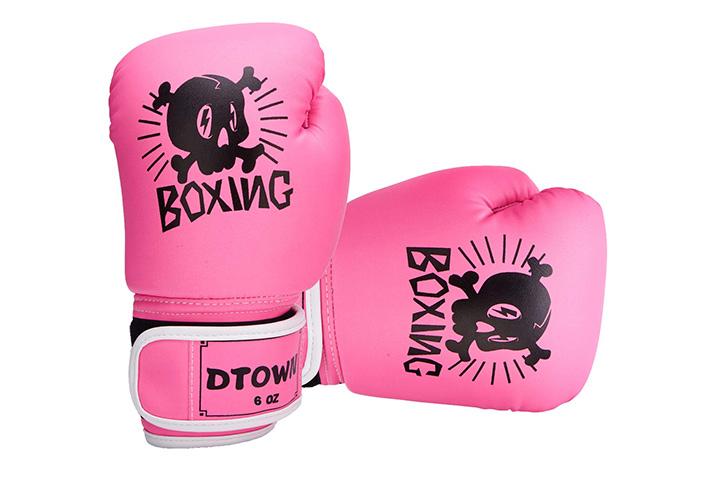 If your little girl wants to learn to pack a punch, then you let her do it but safely with these boxing gloves.
Features:
They are made of PU leather and padded with EVA foaming.
The gloves are easy to clean, wear, and remove.
These gloves come with five air holes that ensure ventilation to keep the hand dry.
Available in different colors.
Suitable for kids aged 3 to 12 years.

5. Luniquz Kids Boxing Gloves, Child Punching Gloves for Punch Bag Training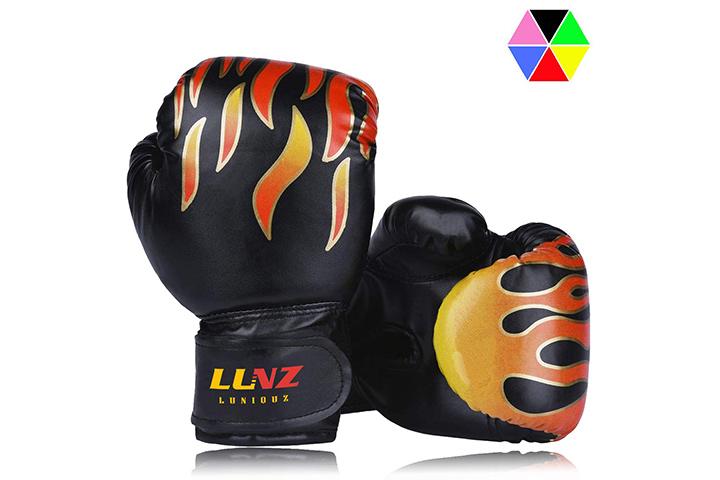 How about a printed glove to ignite the fire in your child's belly to perform like a strong athlete?
Features:
These flame printed gloves come in synthetic leather coating for the perfect punch.
Its dense foam padding protects hands from punch impact and distributes pressure through the hands.
The wide Velcro closure ensures additional support for the wrist and also easy wear and removal.
The breathable lining and vents in the palm keep the hand cool and fresh.
Available in six different colors.

6. KUYOU Kids Boxing Gloves, Pu Kids Children Cartoon Sparring Boxing Gloves Training Age 5-12 Years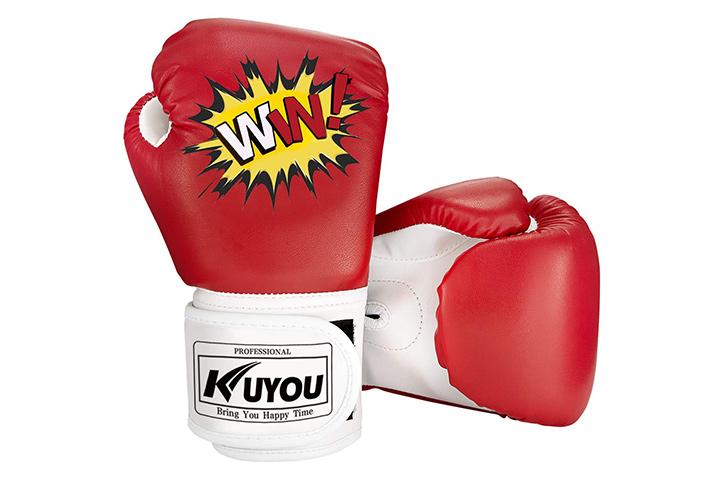 When you need a good-fitting pair of boxing gloves for children, you can have a look at these cool and comfy gloves.
Features:
Its premium hydrolysis resistant PU leather is durable and long-lasting.
Its fist peak and thumb padding are designed for comfortable wear and good protection.
Its breathable mesh keeps the hands moisture-free and dry.
The wrist wrap comes with a Velcro strap for easy wearing and removal.
It is available in red, blue, and green color.
Suitable for kids aged 5 to 12 years.

7. Elite Sports Boxing Gloves, Kickboxing, Adult & Kids Muay Thai Gel Sparring Training Gloves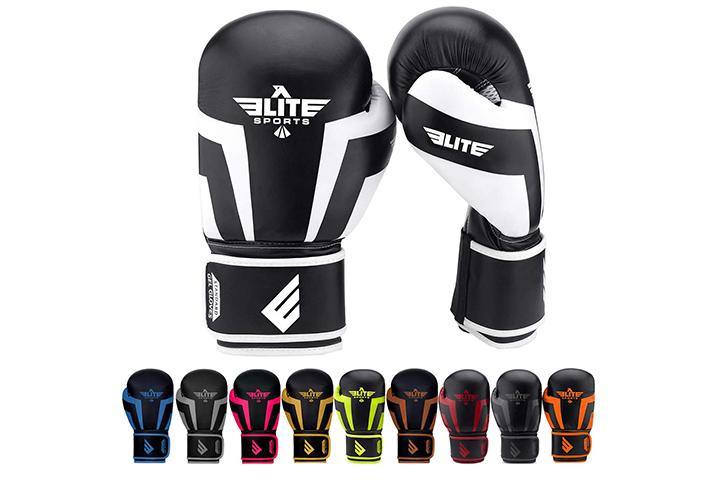 Are you looking for a pair of super-light and snug boxing gloves? Then take a look at these gloves.
Features:
Made of Maya hide leather, these gloves are lightweight and easy to clean.
The Velcro wrist closure comes with a stretchable leather strap and gives the perfect fit. It is easy to wear and remove.
It comes with a triple-density gel and impact foam to give your child the best protection.
Available in a variety of color combinations.

8. Everlast Laceless Gloves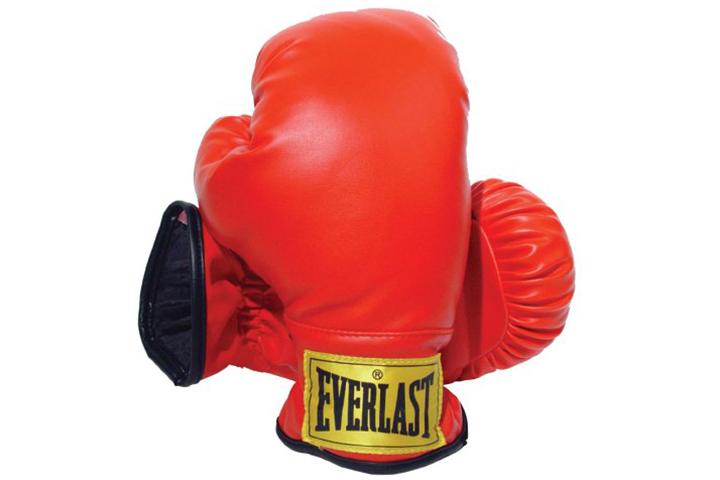 Looking for the traditional red boxing gloves for your Rocky Balboa junior? These will be a good pick.
Features:
This pair of soft padded gloves ideal for beginners.
It is made of premium synthetic leather.
It comes in simple slip-on design with elastic cuff closure that makes it easy to put on and take off.
It is available in a classic red color.

9. Pro Force Leatherette Boxing Gloves with White Palm
Made with faux leather, these gloves are available in a variety of colors to choose from.
Features:
Its pre-curved fit and design with flex grip palms are specially created to suit your little girl's hands.
Its foam core with cotton lining protects the hands while keeping them comfortable.
The vents in the palm enable air ventilation to keep palms dry and clean.
Ultra cuff wrist wrap with hook-and-loop design wrists from punching impact and makes it easy to wear.

Boxing teaches discipline and promotes good health. It can also help build inner strength and boost self-confidence in children. While the sport helps them become stronger and more athletic, a good pair of boxing gloves protects them from any impact and enables them to train longer.
What do you look for in a pair of kids' boxing gloves? Tell us about your preferences in the comment section below.
Disclaimer: MomJunction may earn a commission when products are purchased through affiliate links given in the article. However, this partnership does not influence the editorial content featuring in our list.
Was this information helpful?