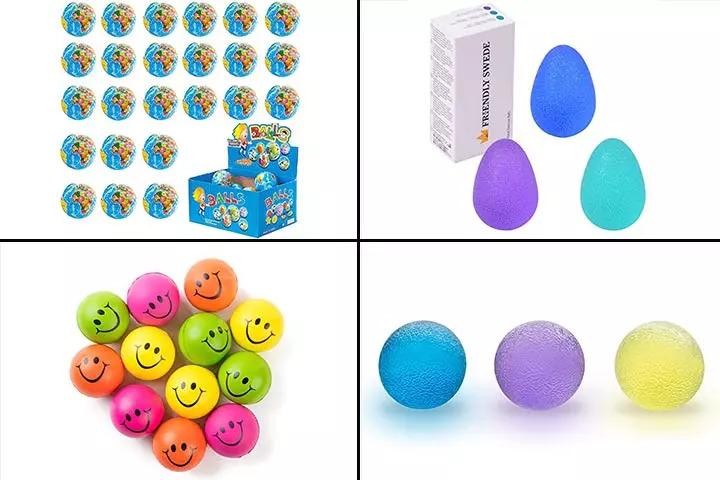 Stress balls are amazing stress outlets. One can squeeze these hardy softballs flat, yet they pop back into their original shape. These spherical stressbusters can work for children too. They could help relieve anxiety, strengthen grip, and may even help improve gross motor skills.
Stress balls for kids can come in a variety of colors, designs, and some may even feature illustrations. So which stress balls are the best for kids? In this MomJunction post, we present a list of the best stress balls that you could consider for your child.
9 Best Stress Balls For Kids
1. Liberty Imports 24-Pack Mini Globe Soft Foam Stress Ball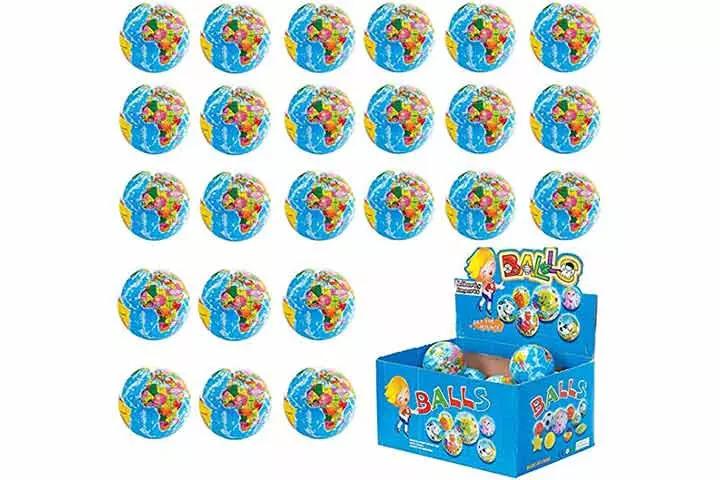 This is a set of 24 stress balls with the image of the globe printed on it.
Features:
The ball is 2.5 inches in diameter.
The globe image is attractive and a fun way to teach kids the world map.
Many countries and water bodies are labeled, which makes the stress ball interesting.
It is neither too soft nor too hard, just the perfect squeeze material.
It can help relieve stress and strengthen grip.
It can be used as party decoration, party gift, or even as a game prize.

2. The Friendly Swede Hand Grip Strength Trainer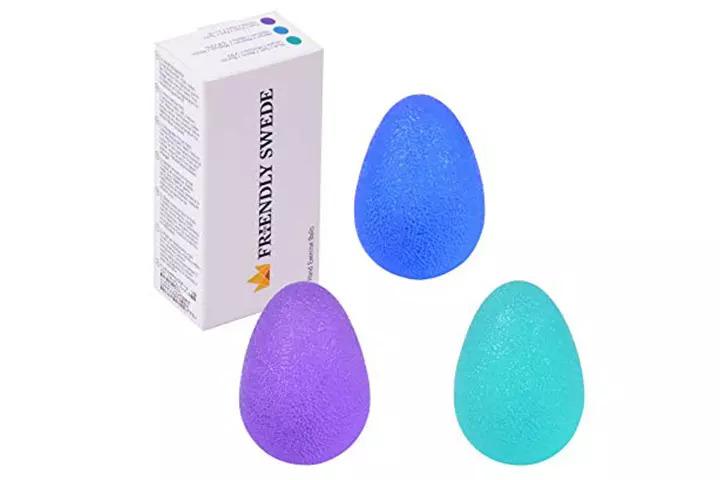 Children who fidget a lot may find it easy to control their restlessness by squeezing this stress ball.
Features:
The oval shape could make it more ergonomic for some hands.
The vibrant colors make the set attractive for kids.
It is made of thermoplastic rubber (TRP) that is skin-safe.
It is tear-resistant and free of toxins.
Easy to clean with mild soap and water.
You can pick these stress balls in three sizes, namely extra small, small, and large.
It is suitable for kids above five years of age.

3. Neliblu Be Happy! Neon-Colored Funny Face Stress Ball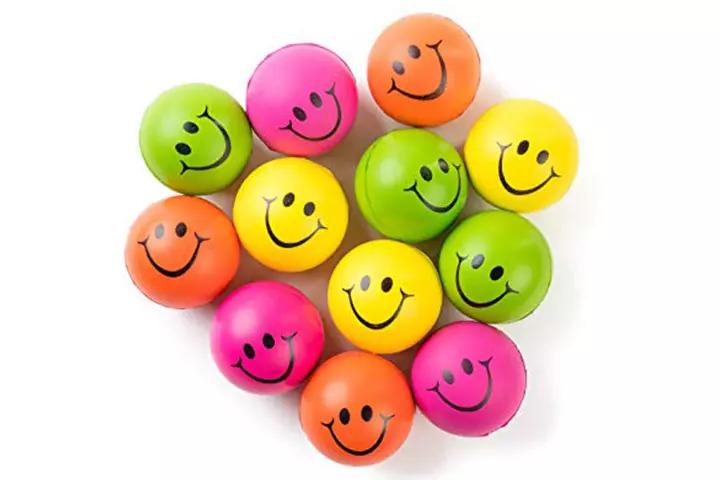 Cute smiley faces have the power to make little kids smile.
Features:
It is a pack of 12 bright-colored, smiley-faced stress balls.
Each ball has a diameter of 2.5 inches.
The squeezing action can release muscle tension and may help a child focus better.
They are spongy and bouncy.

4. 321 STRONG Hand Therapy Grip Balls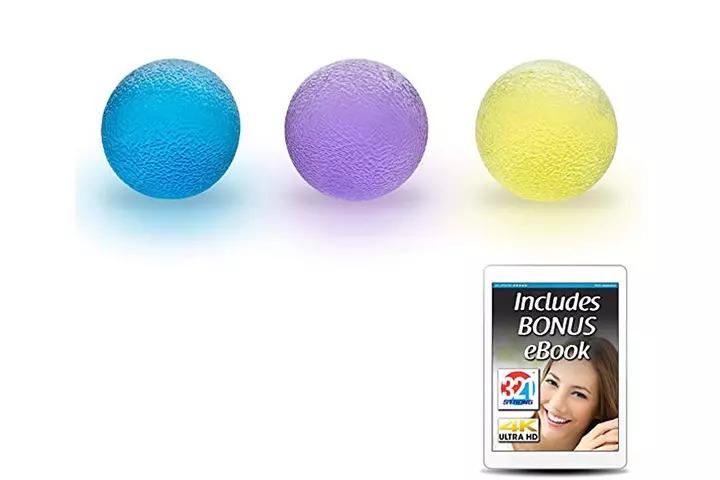 These tiny translucent balls are squishy and easily fit in the palm.
Features:
The product comes in a set of three balls, each of a different color, to indicate the different levels of softness.
Blue ball is the softest. Yellow ball is slightly soft. Lavender ball in strong.
It can help relieve stress and muscle tension.
The colorful stress balls can grab the attention of the child and keep them occupied.
Regular play with stress balls may help strengthen grip.

5. Neliblu Neon Yellow Funny Face Stress Balls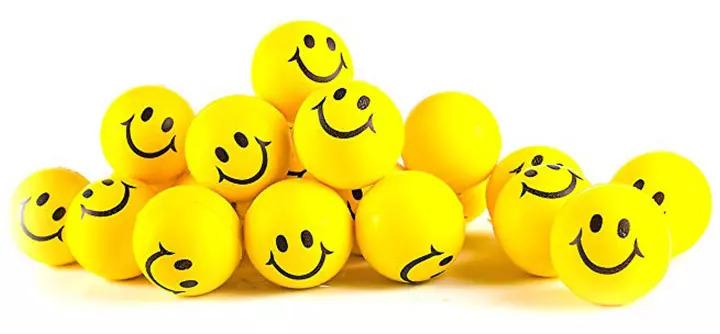 Little kids love seeing smiley faces, and these smiley face stress balls can entice a child with its neon yellow color.
Features:
Each ball has a diameter of two inches.
These stress balls can be quite entertaining to play thanks to the smiley face and the bright color.
Squeezing a stress ball can help keep the child preoccupied.
It is suitable for kids aged three years and above.

6. Morgan Products LED Anti-Stress Ball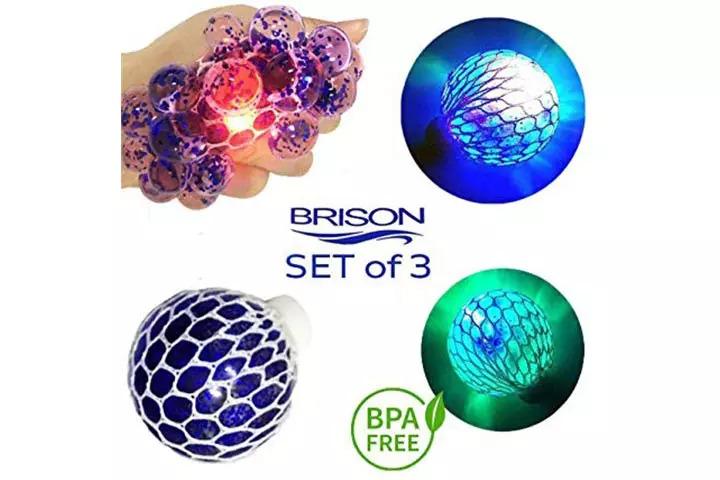 Children love playing with glowing objects. This set of three LED stress balls is likely to make them quite excited.
Features:
These LED stress balls come in a pack of three balls, and each ball features a different color.
A mesh on the outside of the ball helps create a grapes-like look when the ball is pressed.
Tapping the stress ball or squeezing it tightly activates the LED light.
The LED light remains inside the ball, and keeps changing colors constantly.

7. Big Mo's Toys Emoji Stress Balls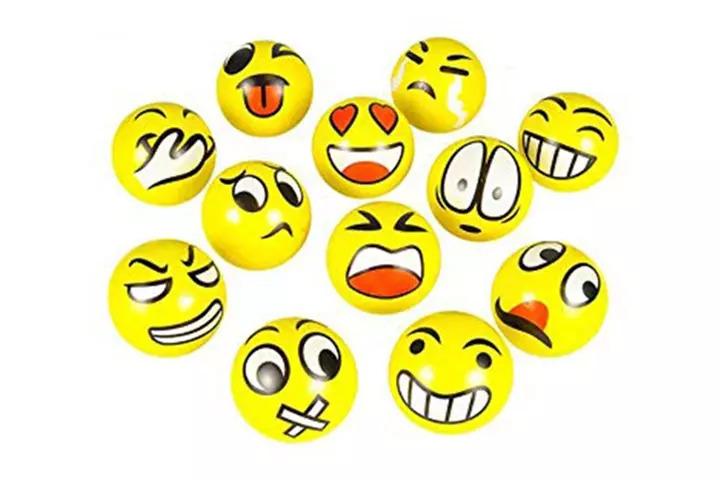 What can be more exciting than smiley stress ball? It is a set of emoji stress balls. This set contains a dozen of stress balls with different expressions that little kids will love to play.
Features:
It is available in a pack set of 12 balls. Each ball is three inches in diameter.
The expressions look similar to chat emojis, and this is likely to make it more fun to play with these stress balls.
It is an ideal choice option for a giveaway, party gift, and so on.
All balls are child-safe and non-toxic.

8. Impresa Product Stress Relief Balls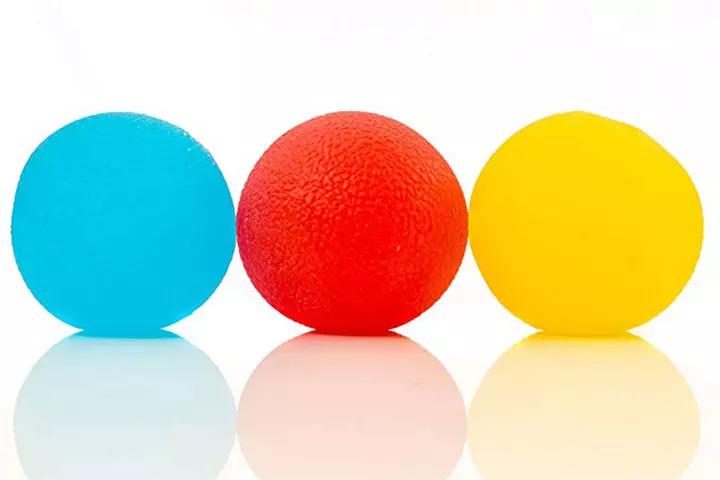 No matter how much your child squishes or squeezes this ball, it will not break open.
Features:
These durable thermoplastic rubber balls come in a pack of three with different colors. Each ball is 2.25 inches in diameter.
It is safe for kids as they are free from phthalates, latex, and BPA. They are hypoallergenic and non-toxic.
It is tear-resistant, stretchable, and non-breakable.
It can help calm nerves and may improve concentration.

9. Rhode Island Novelty Stress Ball Toy Assortment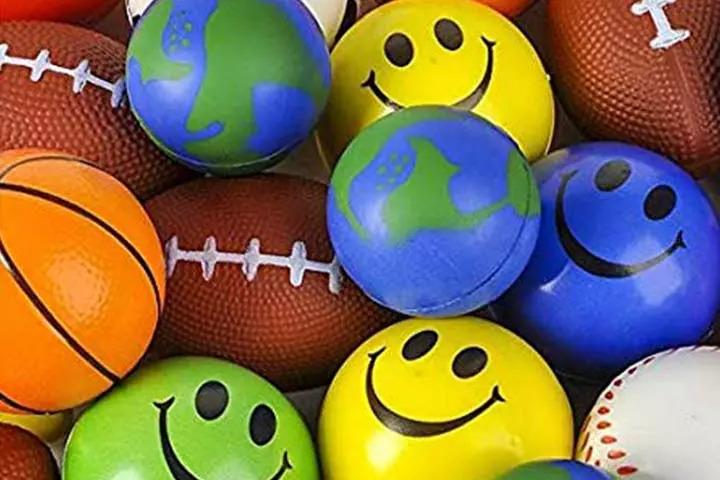 Kids love chocolate and candy assortments, so imagine how happy they will be on seeing an assortment of stress balls.
Features:
It is available in a set of 25 stress balls in varied shapes and colors.
Each ball is around two to three inches in diameter.
The shapes of the ball include a globe, starfish, and even a mini rugby ball.
It is suitable for kids aged three years and above.

Stress balls are fun-to-play toys for children and may offer some therapeutic benefits. It is ideal to pick stress balls that will keep your child engaged for a long time. Stress balls are toys worth considering due to the benefits you can derive from them.
So, which of these stress balls did you like? Do share your choice with us in the comments section below.
Disclaimer: MomJunction may earn a commission when products are purchased through affiliate links given in the article. However, this partnership does not influence the editorial content featuring in our list. 
Was this information helpful?
Comments are moderated by MomJunction editorial team to remove any personal, abusive, promotional, provocative or irrelevant observations. We may also remove the hyperlinks within comments.
The following two tabs change content below.